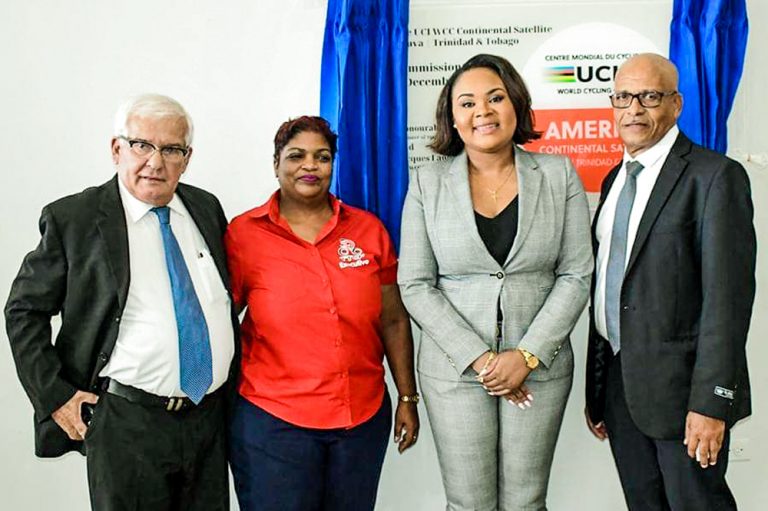 Bailey hails opening of Cycling Satellite Training Centre in T&T
It has always been the dream of long-standing president of the Caribbean Cycling Federation, Vincentian – Trevor Bailey, to have a training centre erected in the region.
Therefore, when the Satellite Centre was opened at the National Cycling Centre in Couva, Trinidad and Tobago recently, one of Bailey's dreams was realised.
According to Bailey, "This is the first Satellite Centre in our continent, and the sixth  in the world and I am glad that I am president of the regional Cycling Federation, because it is something we pushed hard for".
Giving an insight of the procedures towards the realization of the centre, Bailey said, "we started discussions with the Trinidad and Tobago Cycling Federation, the Trinidad and Tobago NOC, the Sports Company of Trinidad and Tobago, and the UCI since the completion of the National Cycling Centre, hence we were able to have [it]placed there."
" The Centre in Trinidad is a special and unique one for the Caribbean track Cycling, once we continue the team work and collaboration we can achieve great thing", Bailey declared.
Since the opening of the centre in Trinidad and Tobago, another was opened in San Juan, Argentina, and in June 2023 another Satellite Centre will be opened in Montreal, Canada.
The three centres will be the training grounds for Track Cycling for the cyclists in the Americas, and will enhance Cycling throughout.
"Cycling is the driving force of the Caribbean Cycling Movement and will help in the development of track Cycling. Cyclists, coaches and mechanics will benefit tremendously from the facilities around our region," Bailey outlined.
Apart from being president of the Caribbean Cycling Federation, Bailey is the president of the St Vincent and the Grenadines (SVG) Cycling Union, as well as a vice- president of Copaci ( The Pan-American Cycling Federation).