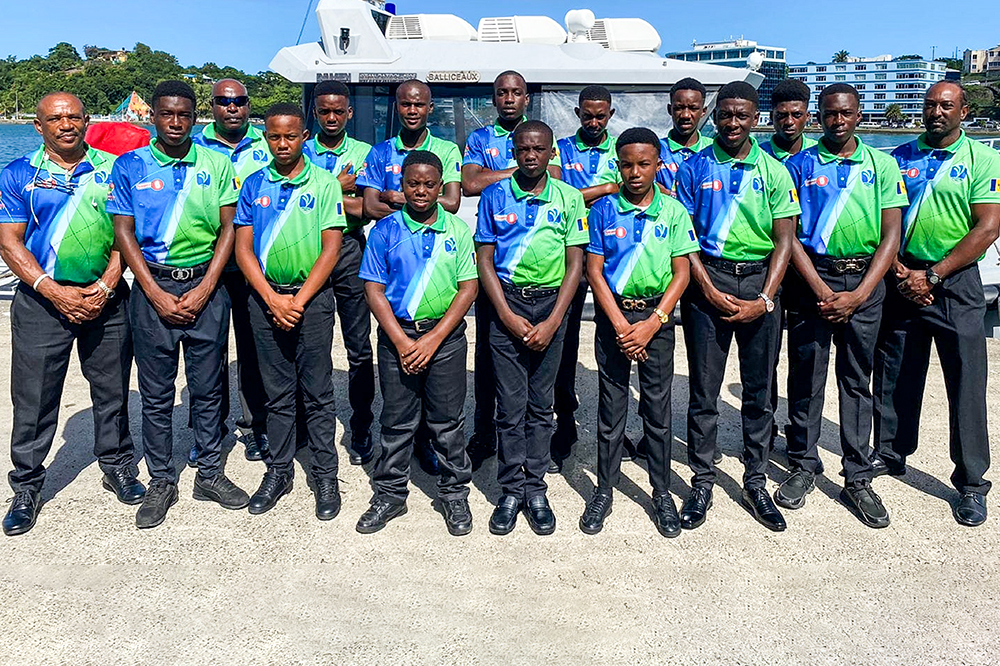 SVG wins opening games in Windwards Under-15 cricket tournament
St. Vincent and the Grenadines (SVG) 15-and-Under cricket team got off to a great start with two victories from their two matches played in the 2022 Windward Islands Under-15 Cricket Tournament in Saint Lucia which began on Sunday, December 11, 2022.
On Sunday at the Gros-Islet Playing Field, SVG after winning the toss, sent Grenada to take first knock and dismissed them for 99 in 39.5 overs. Other than the opening partnership of 65, there was no inning of note from any of the batters. Jordon John top-scored with 22, Raekeim Charles 17, and Aravinda Bishop 10 were the major contributions with the bat.
Leading the destruction with the ball was captain, Jorden Charles with 7 wickets for 10, and Kevin Joseph 2 for 21, with 43 extras comprising 10 byes, 1 leg-bye, 3 no-balls, and 29 wides.
Replying, St. Vincent and the Grenadines lost four wickets as they reached 102 for 4 in 10.5 overs. Cody Slater was the top-scorer with 24, Jawayne Adams 18, and Damalli Phillips 13.
Bowling for Grenada, Aravinda Bishop took 2 for 7, and Julien Simon 1 for 35, with extras contributing 37 made up of 13 byes, 7 no-balls, and 17 wides.
Yesterday, Monday, December 12, Gros-Islet, the Vincentians won their second consecutive match of the tournament, when they defeated Dominica by two wickets.
Having won the toss, Dominica decided to bat and were soon all out for 60 in 22.5 overs. Jay LaBlanc top-scored with 14, Earsinho Fontaine 10, with no other batter reaching double figures.
Elran Glasgow was the destroyer this time around for the Vincentians finishing with 5 for 22, and Lebron Douglas 2 for 11, while DeAndre Dougan 1 for 10, and Dexter Baynes 1 for 16 gave support..
In reply, St. Vincent and the Grenadines clawed their way to 63 for 8 in 17.2 overs; with Cody Slater the only batter to reach double figures- 22. DeAndre Dougan remained 4 not out.
Bowling for Dominica, skipper, Kenneth Valmond took 5 for 15, while Earsinho Fontaine had 1 for 17, and Lybird Darroux 1 for 14.
The St. Vincent and the Grenadines squad competing in the 2022 WINLOTT/Windward Islands 15-and-Under tournament in Saint Lucia comprises: Jorden Charles (captain), Elron Glasgow (vice-captain), Damalli Phillips, Zach Thomas, Cody Slater, Delroy Tittle, Ahmaud Boyea, Ozaid Edwards, Jawayne Adams, Deandre Dougan, Dexter Baynes, Kevin Joseph, and Lebron Douglas.
The Management team is Manager – Samuel Holder; Coach – Bertram Stapleton, and Assistant Coach – William 'Bill' Edwards.