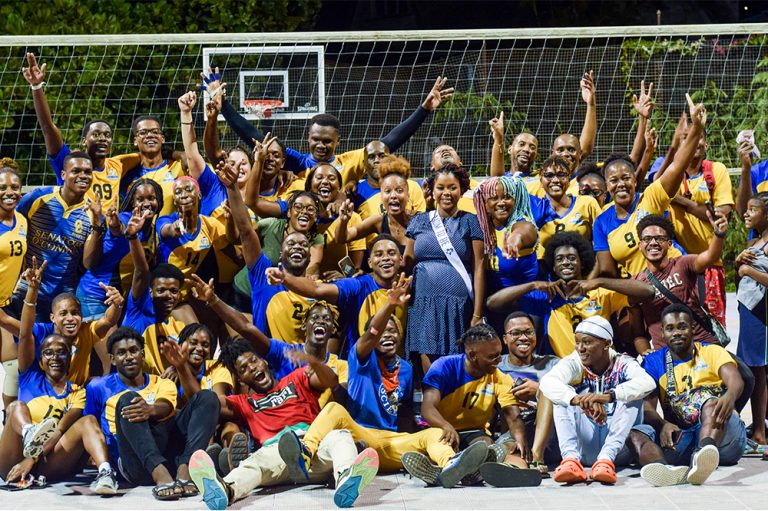 Gremlins and Unique Touch secure National Volleyball titles
The Gremlins clan left the Girls High School hard court in a joyous mood last Saturday night December, 3 after securing all three titles that were decided that were up for grabs in the St Vincent and the Grenadines (SVG) Volleyball Association's National Championships.
Starting off Gremlins' trilogy was their Male B outfit which overpowered Alliance in the final game.
Gremlins came away with straight sets, 25-19, 25-20, 25-15.
Then it was the turn of the Senior Female team that conquered Country Roots 27-25. 25-10, 25-21.
The icing and cherries were placed on Gremlins' Christmas cake, as the Elite men's title also came their way.
In the process, Gremlins dethroned the 2019 champions, Country Roots 3-1 (18-25, 25-11, 25- 20,25-23) in a contest befitting a final.
It was sweet revenge for Gremlins, who were the losing finalists to Country Roots three years ago, the last occasion the championships were held.
However, the first to celebrate a piece of silverware was Unique Touch, who on Friday night at the same venue, trumped the Female B title.
Unique Touch thus, was the lone club to avoid Gremlins' clean sweep of the championships, winning three sets to two, in a match not for the faint hearted.
Unique Touch sped to a 25-20 win in the first set, only for Gremlins to take the second, 25-16.
The see saw match continued with Unique Touch winning the third set, 25-22, but Gremlins rebounded to win the fourth 25-15, and set up a grand stand final set.
Amidst the emotions and flutters, Unique Touch sealed the victory with a 15-10 score-line in the decisive fifth set.
The closing and presentation ceremony is set for Saturday, January 14, 2023.