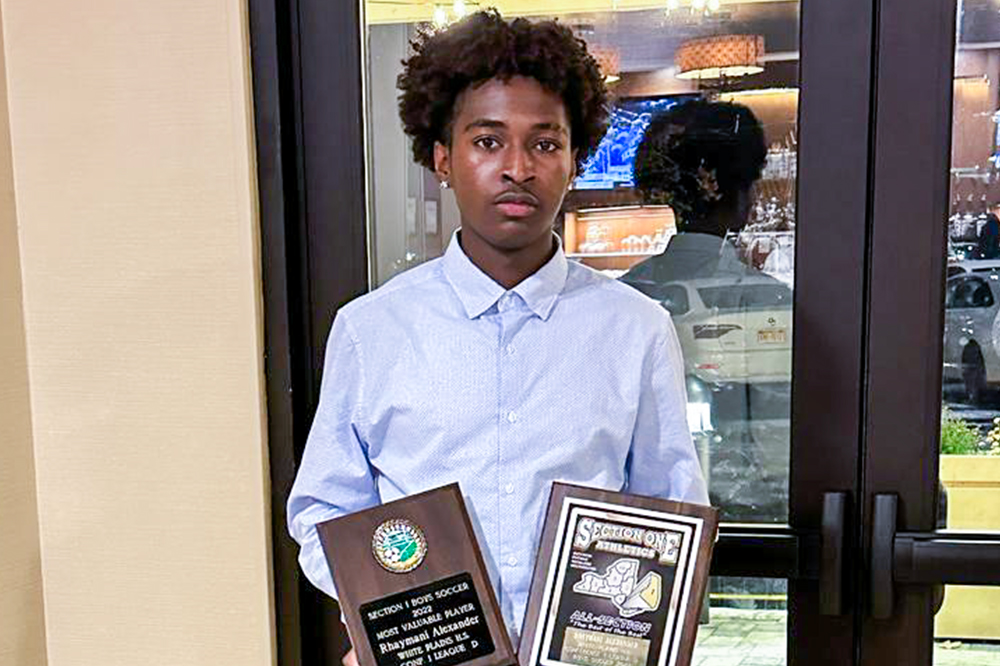 Young Vincentian Soccer player gets accolades in New York
Rhaymani Alexander, the son of Vincentian Soccer coach, Renrick Alexander is etching his name in High School Soccer in New York.
The 17- year-old Rhaymani, a forward, who is a student of the White Plains High School, on Tuesday, November 15 was one of the highlights at a ceremony to award outstanding players.
At that ceremony, Rhaymani was awarded the Conference One League D Player of the Year, and also received All Section and All State Honours.
His awards came as a result of an exceptional year representing his school, and White Plains.
Playing for White Plains in the Westchester High School Summer League, Alexander scored 10 goals in 12 matches.
In his high school season, Alexander netted 19 goals in 17 matches. This helped him to four accolades in the process.
As a result of his goal scoring prowess, Alexander was awarded the League MVP; All Section Best Player; All League Best Player and was named in the 45 Best Players in New York State High Schools.
Alexander was since named among the All – Region awardees, presented to four players in Section One, and over 30 in the entire state.
Alexander also represented St Vincent and the Grenadines in the International Cup in Brooklyn, New York in July and August of this year.
The youngest member of the St Vincent and the Grenadines team in that competition, Alexander scored two goals in the three matches he played.
Given his progress, Rhaymani has been lauded by his school's coach, Michael Lambert for his commitment and abilities.
Lambert thus thumbed Rhaymani's most prominent attributes as " his speed and dribbling ability, first touch, receiving and turning, playing between the lines, passing and moving, being ball smart and getting out of tight spots".
Rhaymani's father, Renrick, said he is proud of his son's achievements thus far.
" He works hard… He gets up early on mornings, does his own training and with me, he also spends additional hours working on his techniques", the elder Alexander told SEARCHLIGHT.
Alexander added that " Rhaymani is focused on becoming a professional Soccer player in the future, so he is putting the hard yards at this time".
A confident Renrick said "Barring serious injuries, that is on the horizon, because he is focused".
Apart from turning pro, Rhaymani, according to his dad, would like one day to represent St Vincent and the Grenadines as he maps outs his future in the sport.
RELATED ARTICLES: SVG Football Federation saddened over death of Lorenzo DeShong
National youth footballers get health supplements