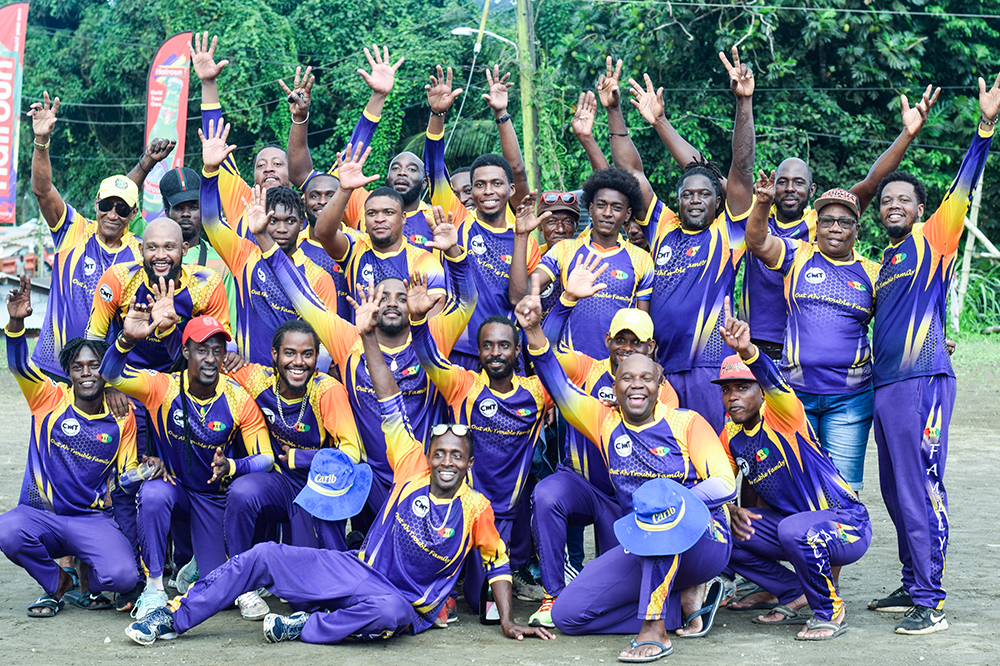 Out Ah Trouble Family remains Greiggs Softball cricket titans
Country Meet Town Out Ah Trouble picked up from where they left off in 2019, the last occasion of the staging of the Greiggs softball cricket competition, by taking the 2022 Caesar's Real Estate/ Hairoun Beer/ Nar Fren Dem title last Sunday, November 20, at the Greiggs Central Playing Field.
Champions in 2018 and 2019, Out Ah Trouble easily defeated the RSVG Police by 109 runs in a lopsided affair.
Out Ah Trouble amassed 183 for 8 from their 20 overs. Eventual player of the final, Asif Hooper topscored with 40, and Javid Harry contributed 30.
Okeiph Andrews was RSVG Police's most successful bowler, taking 2 for 21.
In their turn at the crease, the law enforcers struggled to get going, as Desroy Strough, 3 for 14, and Travis Cumberbatch who had 3 for 39, were too much for the RSVG Police who folded for 77 from 15.5 overs.
In the third- place play-off which took place before the final, Sion Hill Tallawahs won from Caesar's Real Estate Nar Fren Dem by 11 runs.
Batting first, Tallawahs scored 132 all out from 16.4 overs. Denson Hoyte led with 46, and Delanzo Lavia added 43.
The most successful bowler for Nar Fren Dem was Cordis Oliver, who snared 3 for 34.
In response, Nar Fren Dem's innings stopped at 121 for 7 from their allotted 20 overs.
Sachin James hit 30 for Nar Fren Dem, while Delanzo Lavia took 3 for 17, bowling for Sion Hill Tallawahs.
In the presentation and closing ceremony that followed, Out Ah Trouble players carted off with the major awards.
Topping the list was Davian Barnum, whose scored 159 runs, took 12 wickets and held on to 3 catches, thus earning himself the Player of the Competition accolade.
The pair of Travis Cumberbatch and Stein Joseph won the most wickets and most runs awards, respectively. Cumberbatch scalped 19 wickets, and Joseph accumulated 216 runs.
Other awards presented last Sunday was the Best Dressed team- Kombat Warriors; Best Catch- Rod Collins of Nar Fren Dem; and the lone centurion of the competition- Wendell Corridon of Dr Thomas Injectors.
The Greiggs Softball Cricket Competition was last held in 2019.