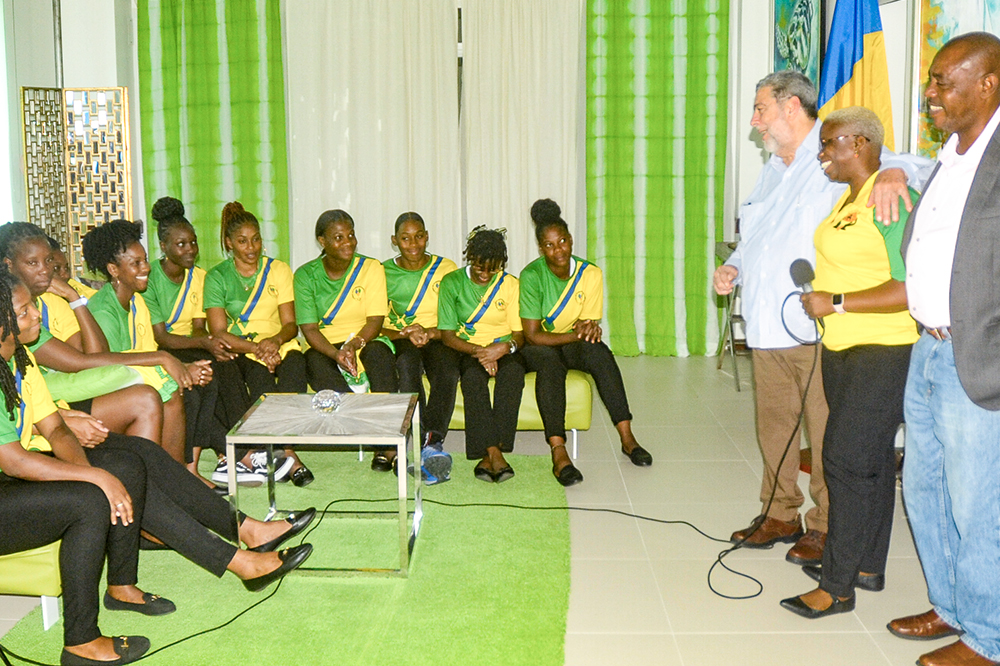 Netball Association rebrands National Netball Team to 'Vincy Jewels'
Affiliates of the St Vincent and the Grenadines Netball Association (SVGNA) have decided to rebrand the team to " Vincy Jewels".
The decision was taken on Wednesday, November 9, 2022 as delegates met for the Association's quarterly general meeting at the Peace Memorial Hall, SVGNA president, Natasha Baptiste told SEARCHLIGHT in an interview.
She said the rebranding exercise is aimed at giving the association greater visibility and increased national thrust into its outlook.
"We have made some decisions in terms of the rebranding of the association, and the two elements that we would have decided upon today, is the logo for the association and the name. Vincy Jewels is the name that the affiliates have agreed on and going forward all our national teams will be called by that name, Vincy Jewels," Baptiste said.
She persons may have heard the team during the recent Americas Netball Qualifiers in Jamaica chanting 'Vincy Jewels', but until the affiliates took the decision, nothing was official.
In her bid for the presidency of the Association, Baptiste had included in her manifesto the regular scheduling of meetings, and provision of reports to the affiliates after participation in tournaments to give then an opportunity to share concerns and make suggestions.
Last Thursday's meeting was her first with the affiliates since her election as president on May 9.
Since that time Baptiste had to prepare her executive for the hosting of the inaugural Americas Netball Men's Netball Championships held in SVG from September 1-4; prepare national a National Under-23 team for the inaugural Caribbean Games in Guadeloupe from June 23 to July 8; and participation of the Senior National Team for the October 16-22 Americas Netball World Cup Qualifiers in Jamaica in which SVG's third place listing did not allow for its qualification to the 2023 World Cup in South Africa.
Speaking about the meeting, Baptiste told SEARCHLIGHT "…I think we accomplished what we wanted. We heard from them (the affiliates), and it is that we can only get better from there."
While the turnout was poor, a quorum was present to enable the business of the SVGNA to proceed legally.
[[UPDATED on November 23, 2022 at 9:40 am to change the spelling of the rebranded name of the national netball team to 'Vincy Jewels']]