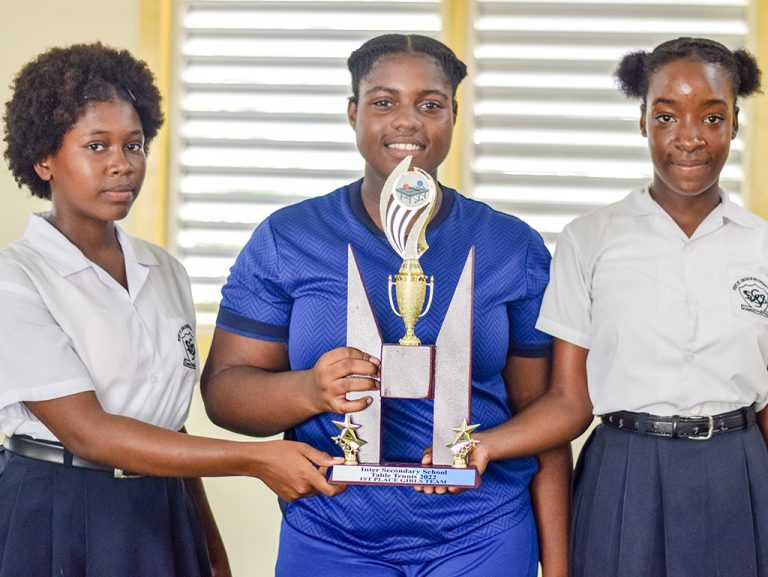 West St George take both team titles in secondary schools' Table Tennis Contest
The West St George Secondary School has won both the male and female team titles in the 2022 Inter- Secondary Schools Table Tennis Championships.
They stamped their domination in the finals, held on Thursday November 10, at the St Vincent Grammar School Hall.
Represented by the trio of Joevandy Joseph, Kris Ollivierre and Joshua Simmons, the West St George Secondary male team defeated the St Vincent Grammar School in the final, three games to one.
Joseph defeated Kristian Christopher 11/9, 11/4; and had an 11/6, 11/7 win over Lamont Gregg, while Simmons outplayed Zedon Joseph 11/6, 11/7.
The St Vincent Grammar School's lone win came from Lamont Gregg, who trumped Ollivierre 7/11, 11/9,11/5.
In the semi-finals, West St George defeated Petit Bordel, 3-0, and the St Vincent Grammar School outdid the Troumaca Ontario, 3-2.
Troumaca Ontario upset Petit Bordel 3-0 to take the third place spot.
In the Females segment, the combination of Jyadira Greaves, Jessica Mc Carter, and Cherese Williams of the West St George Secondary, trounced the Girls' High School trio of Kiara Hazel, Cassique Quow, and Monecia John 3-1 in the final.
Mc Carter whipped Quow, 11/5, 11/7, and Hazel- 11/9, 5/11, 11/8; while Williams defeated John 7/11, 11/5, 14/12.
The Girls' High School's consolation game came from Hazel, who won from Greaves 11/0, 11/1.