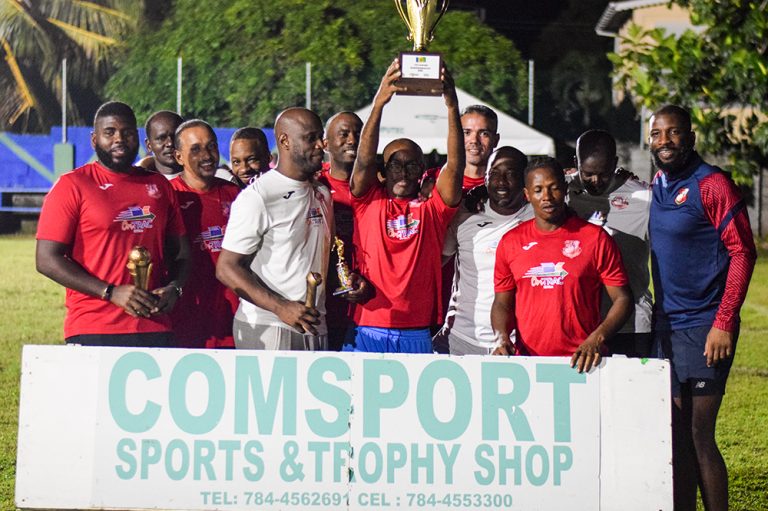 Hope International defeats Sion Hill to win Seven -A -Side Football Competition
On Trac Hope International remained the lone outfit not to lose a match in the inaugural Comsports Seven- A – Side Independence Football Cup.
When the competition finally ended last Saturday, November 15, at the Comsports Facility at Arnos Vale, Hope International had defeated Sion Hill in the title match 2-1, to take the winner's trophy and $2000.
Accounting for Hope International's goals were Cauldric Sutherland and Marlon James who contributed a goal apiece. Conroy Trimmingham responded for Sion Hill with a goal that pundits say was the best in the competition.
Sion Hill thus pocketed $1200 and the second place trophy.
Earning $500 and a trophy was the star- studded Rogers Photo Studio Older Boys, who won from South Leeward Masters in the play off.
The other outfits in the eight- team competition were Wildey Masters of Barbados; La Clery Veterans of St Lucia; Over The River; and North Leeward.
Hope International's Dwayne Dennie topped the awards list as the Most Valuable Player. He was also joint top scorer with Renson Haynes of Older Boys. Dennie and Haynes, each scored six goals.
The competition began on October 27 and should have been completed on October 29, however the inclement weather during that period, forced its extension.
With other overseas teams already expressing an interest in participating, organisers foresee a bigger competition in 2023.