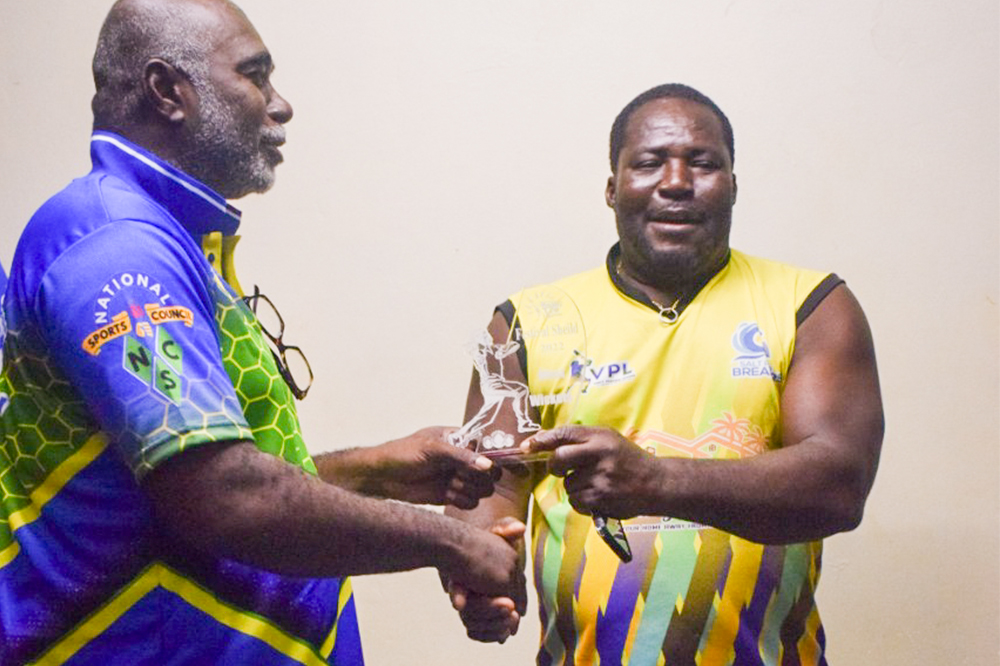 Masters cricket spoils shipped off
Sital Masters of Trinidad and Tobago won the Festival Shield, while Sarasota International of Florida, USA, and Trinidad and Tobago Rungetters Masters shared the Fete Division title, when the 2022 National Lotteries Authority / St Vincent and the Grenadines Tourism Authority SVG International Masters 20/20 Cricket Festival concluded on Saturday November 5, at the Stubbs Playing Field.
Facing the Royal St Vincent and the Grenadines Police Masters in the final, Sital Masters earned a 58 run victory.
The visiting team compiled a healthy 209 for 5 from their 20 overs. Randy Ramanan struck 57, Alvarado Bryce scored 49, Shazam Babwah  contributed 37, and Earnil Ryan,28.
In response, RSVG Police faltered from 94 for 2 after 12 overs, to end on 158 for 7 from their 20 overs, thus surrendering the title.
Gosnel Cupid who scored 28; Olanzo Jackson, 24 not out; Neil Baptiste, 22; and Trevor Bailey 20, got starts but could not go on.
Bowling for Sital Masters, Sanjiv Gooljar took 3 for 24 and Navin Mungroo picked up 2 for 31.
Despite losing the final, RSVG Police's Olanzo Jackson copped the most wickets award for his 8 scalps.
 In the Fete Division final, Sarasota International and Rungetters Masters were forced to split the spoils and the title, after the match ended in a no decision because of rain.
Batting first, Rungetters Masters were 83 for 3 from 111.1 overs, when rain stopped their innings.
Dean Ali was 29 not out and Dary Balgobin 29.
 Set 84 for victory in 11 overs, Sarasota International was 22 for 1 in 2.4 overs in pursuit of a DLS adjusted target of 54 from six overs, when heavy rains ended the match.