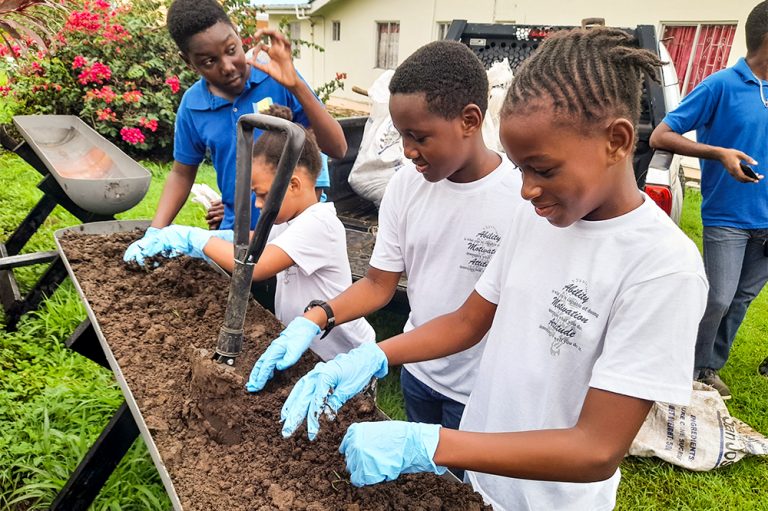 Seishin Karate Club establishes vegetable garden for residents of home for the aged
Residents of the M&A Home for the Aged, located at Arnos Vale, have an additional activity to fill their day.
Thanks to the thoughtfulness and tenacity of members of the Seishin Karate Club, the residents have beds of vegetables to care for.
The residents have the opportunity to engage in the growing of lettuce, celery, tomato, sweet pepper, sweet marjoram, cabbage, cilantro, oregano, among other vegetables.
The project which was officially launched last Saturday, November 5 at the Home, saw members of the club preparing the vegetable beds and planting the seedlings.
Welcoming the initiative by the club with open arms was Annie Peters, who spoke glowingly of the project.
" We have residents here who were farmers in their younger days, so it is really a pleasure and great opportunity for them to be involved in the project… We have a lot of lands in the back of the Home and we do appreciate the fact that club chose the M&A Home for the Aged to do this project", Peters said.
Continuing her praise for the gesture by the Seishin Karate Club, Peters added that " part of the mandate of the Home is to get the residents as involved as much as possible in activities similarly as if they were in their homes".
Equally elated about his involvement was Aaron Mc Donald, a young karateka.
" It feels encouraging to give to the less abled persons and for me it is a sense of respect," the youngster said.
It is nothing new for Mc Donald to be engaged in the planting of crops, as he comes from a farming family.
Meanwhile president of the Seishin Karate Club, Karthina Providence said the gesture emerged from the club's philosophy.
"We believe in fostering in them the giving back feeling as it is important in oneself to give back to the elderly, to give back to the less fortunate", Providence said.
As a follow up the last Saturday's planting of seedlings, club members will make periodic visits to help tend the plants.
Another of the commitments made is having someone visit the Home on a weekly basis to assist with additional care.