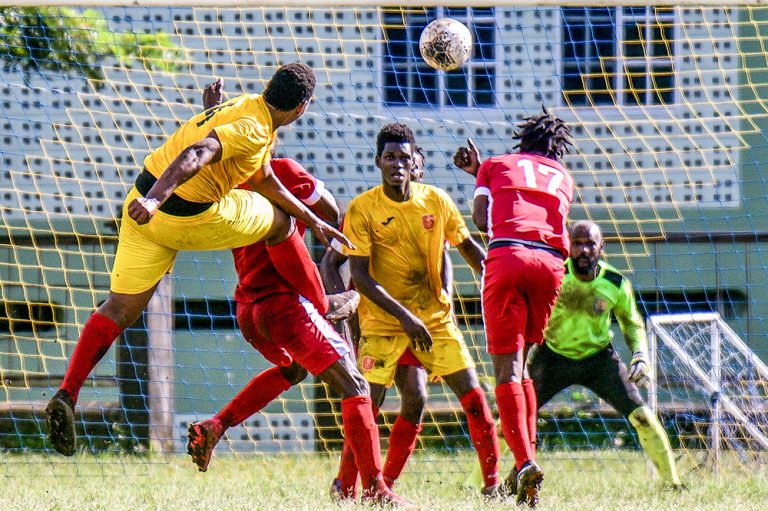 Rocksdale and Richmond Hill holding strong
Despite losing to Sharpes 09 last Saturday, November 5 on their home ground, the Campden Park Playing Field, Rocksdale remain on the top of the pile in the Second Division of the National Club Championships.
Rocksdale is on 15 points from six matches, followed by RSVG Police, 12 points from the same six matches.
Brownstown- 10 points from five matches, and 1998 Hill Side Rollers also 10 points from five matches, sit in fourth place.
Strike Force, Green Hill, K&R Strikers, Sharpes 09, DESCO, Sharpes FC, Hill View and Toni Stores Jugglers, follow in that order in the 12 club championships.
In the First Division, Richmond Hill stays ahead in the standings on goal differential above Camdonia – Chelsea.
Both are on seven points from their three matches.
SV United is third on 6 points from three matches, with Sparta FC, six points, but from two matches is in fourth position.
The rest of the table reads in order of current position: Volcanoes, Glenside Ball Blazers, Richland Park Pride and Joy, Owia United, QCESCO Titans, Parkside Rollers, Bequia United and Greiggs FC.
Meanwhile, the Premier Division got going last Sunday, November 6 at the Victoria Park with a double header.
Defending champions, Hope International beat Layou 5-2, and Je Belle defeated Largo Height 4-1.
On Friday Sion Hill meets North Leeward Predators from 5:30 p.m, to be followed by Avenues versus Layou from 7:30 p.m.
On Sunday from 4 :30 p.m, Awesome faces Largo Height and from 7:30 p.m, Hope International and JeBelle will tangle.
Three matches are scheduled for Saturday in the Second Division. At the Richmond Hill Playing Field, Green Hill plays Toni Stores Jugglers; Brownstown opposes 1998 Hillside Rollers at Brighton; and at Campden Park, Sharpes FC meets Strike Force. All matches are set to kick off at 4 :00 p.m.
And, six matches are carded for Sunday, November 13 in the First Division. From 1:30 p.m at the Clive Tannis Playing Field in Bequia, Camdonia- Chelsea and Bequia United oppose each other.
At the Chili Playing Field from 2:00 p.m, Sparta FC engages SV United. Then from 3:30 p.m, QCESCO Titans plays Owia at Brighton; Volcanoes meet Richland Park Pride and Joy at Chili AT 3:45 p.m. and Glenside Ball Blazers face Parkside Rollers at Campden Park at 3:30 p.m.