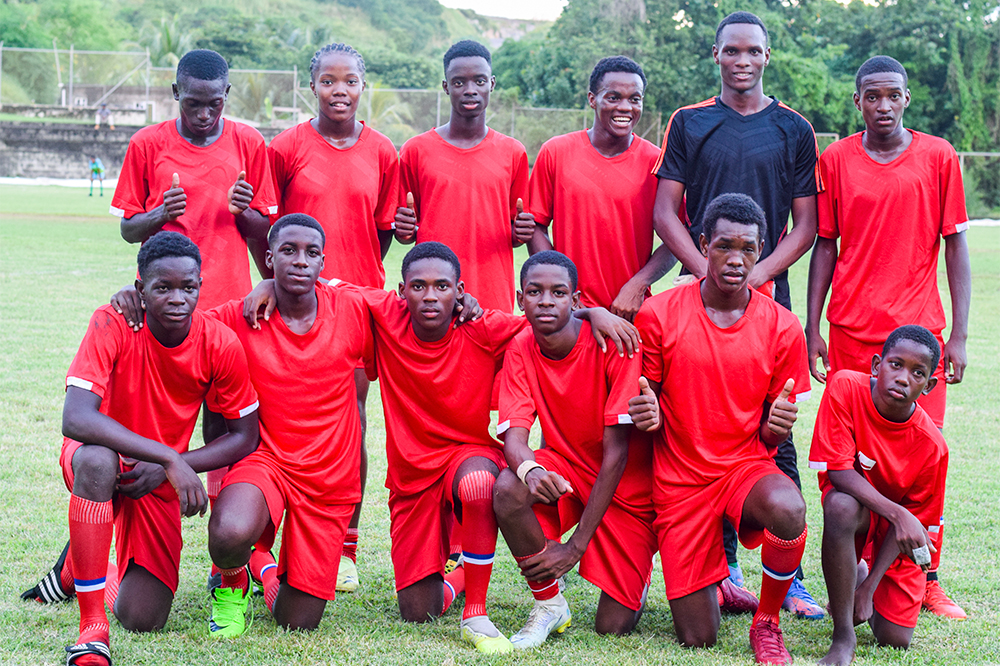 Georgetown Police Youth Club takes inaugural Inter-Clubs Football title
A 3-2 win over Vonzuu Redemption Sharpes last Sunday, November 6 at the Stubbs Playing Field, saw Georgetown taking the top place in the first ever Police Youth Clubs Football Competition.
But it was Redemption Sharpes that landed the first blow, as Jeson Morgan registered a goal in the 15th minute. Georgetown responded two minutes later through Mitron John.
Like in the first half, Redemption Sharpes again took the ascendancy, as Nathaniel John scored in the 24th minute. Georgetown restored parity in the 27th minute as their female player, Samayaa Connell scored a header.
Mitron John then sealed the deal for Georgetown in the 38th minute leaving Redemption Sharpes to settle for second place in last Sunday's final of the inaugural competition.
Prior to the final, St Vincent Co-operative Bank Layou secured the third place, beating Chateaubelair 7-5.
For his two goals in the title match and his impact on the game, John was adjudged the player of the final.
In addition, he jointly copped the award for best midfielder with Lazaro Lynch of Layou.
Taking the accolade for the most goals, 14, was AJ Delpesche of the Chateaubelair Police Youth Club.
In other adjudications, the best goal keeper named was Kelique Walters of Stubbs, and the Best defender was Redemption Sharpes' Nickron Laidlow.
The MVPs awarded were: NJ Hooper ( Zone One); Lazario Lynch ( Zone Two); Jamaar Saunders ( Zone Three); Tyrique Stephens ( Zone Four);and Mitron John (Zone Six).
The awards for the most promising players went to Lucas Michael of Chateaubelair; Ozario Doyle of Redemption Sharpes; Philton Davy of Biabou; Zidane Henson of South Rivers; with Ryan Williams of Richland Park, being named the best Under-10 player.
Teams selected as being most disciplined were Rose Hall in (Zone One); Questelles ( Zone Two); Bequia (Zone Three); Stubbs ( Zone Four); and South Rivers (Zone Six).
And, Chateaubelair emerged champs in Zone; Layou won in Zone Two; Redemption Sharpes champed in Zone Three; while Richland Park were the victors in Zone Four.
And, copping the honours in Zone Six were the eventual overall winners, Georgetown.
The inaugural competition kicked off on October 15 and organisers promise a grander affair come 2023.