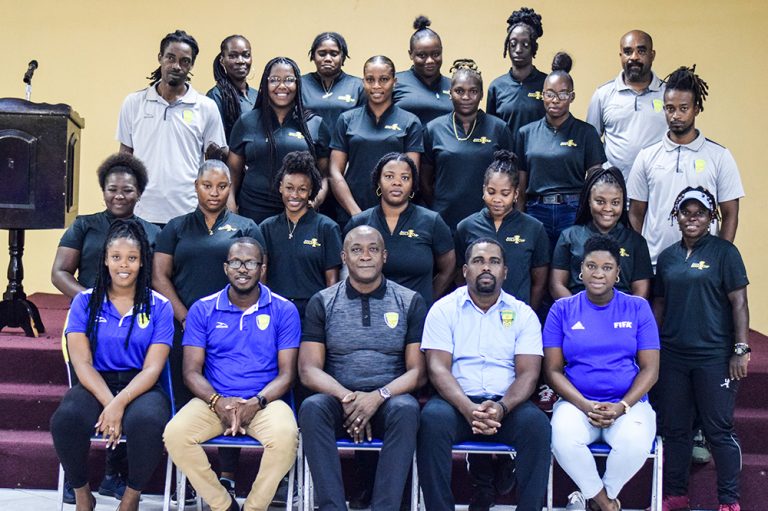 SVGFF hosts all female C Licence course
The St Vincent and the Grenadines Football Federation (SVGFF) turned a new page in its operations with the official commencement of an all-female C licence course.
The course, attended by more than 30 women, began last Saturday, October 29 with an opening ceremony at the Methodist Church Hall in Kingstown.
Among those speaking at the opening ceremony was President of the SVGFF, Carl Dickson who deemed the occasion as special.
Referring to the initiative, Dickson said: "I know that it is a proud moment for our technical team who are working exceedingly hard to make sure that they bring our females up to par to all respects as it relates to football".
Dickson also used the occasion to point out to the local coaches the changing dynamics and closing of the gap between men and women in the sport.
He implored them to make the best of the course as there are no boundaries to their successes and accomplishments.
Dickson therefore advised them to "Have fun in whatever you do…. Engage your facilitators… Give meaningful feedback and try to focus on what is being presented and go back to your respective clubs and villages and pass on the information (because) it is teaching that we sometimes learn".
Following last Saturday's ceremony, the prospective licensed coaches will engage in 60 hours of instruction via the virtual mode and through practical sessions.
Facilitating course are Theon Gordon, Director of Technical Matters, along with Ralph Stowe, Keith Ollivierre, Wayde Jackson, Alfred Grant and Andrew Bramble.
Gordon told SEARCHLIGHT that whilst it is a C licence course, hopefully no one would be left empty handed.
"Our aim is to get everyone in the course certified, so who don't make the grade as a C licence can be afforded a D licence."
He added that all participants must complete 60 hours to be eligible for certification.