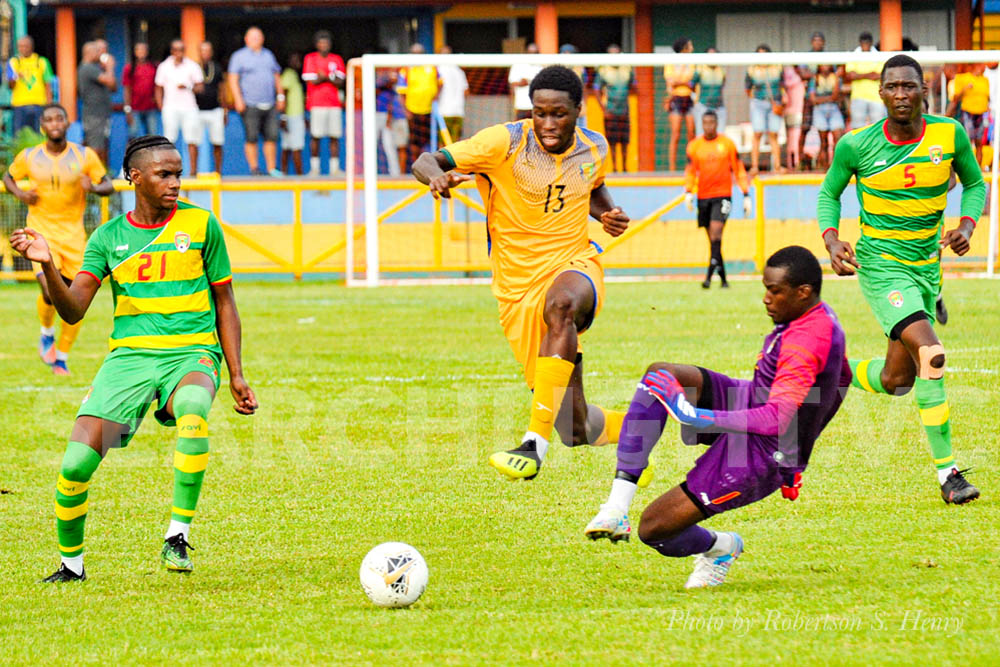 Vincy Heat hammered at home by Grenada in football friendly
Hosts St Vincent and the Grenadines (SVG) were hammered by Grenada on Saturday, October 1, losing 1-5 at home in an international football friendly, played at the Victoria Park in Kingstown.
Rondell Thomas opened the scoring in the 15th minute for the hosts, taking full advantage of a defensive lapse by his marker and the Grenadian goalkeeper.
But then disaster struck in rapid fashion in the 31st, 35th, and 36th minutes respectively;  all three goals scored by Grenada's Joshua Isaac in a first half hat-trick.
Both teams went into the interval, Grenada being the happier with a 3-1 lead, the exact score-line that St Vincent and the Grenadines won by, last Saturday in Carriacou.
Despite the effort by the Vincentian head coach to get his players to play according to plan, goals were hard to come by. But not so for the visitors who added two more by Mackell Gannes in the 80th, and substitute Dorrel Pierre in the 90th minute.
Senior coach of the Grenada national men football team Anthony Modeste told SEARCHLIGHT in a post-match interview that following the game in Carriacou, he admitted that "we did not play our best football, we thought we could have played much better."
He pointed out that "we brought in seven fresh players, one of them was a senior player, so the experience showed today. We wanted someone to lead in Carriacou, but we didn't find a leader, and today we have an experienced player who led and scored a hat-trick.
Kendal Mercury, coach of the St. Vincent and the Grenadines national senior men football team told SEARCHLIGHT that "they pressed us a lot and I said that they were going to press us. They are fitter than us because they have been training way long before us. We probably only had two weeks of training and that's not the excuse, just reality. This week we basically had no training at all because this week has been a lot of rain in St. Vincent [and the Grenadines]. We were kind of handicapped in our preparation coming into this game nonetheless."
Mercury added that it is an embarrassing score, because "we shouldn't be losing 5-1 with the type of players we have."