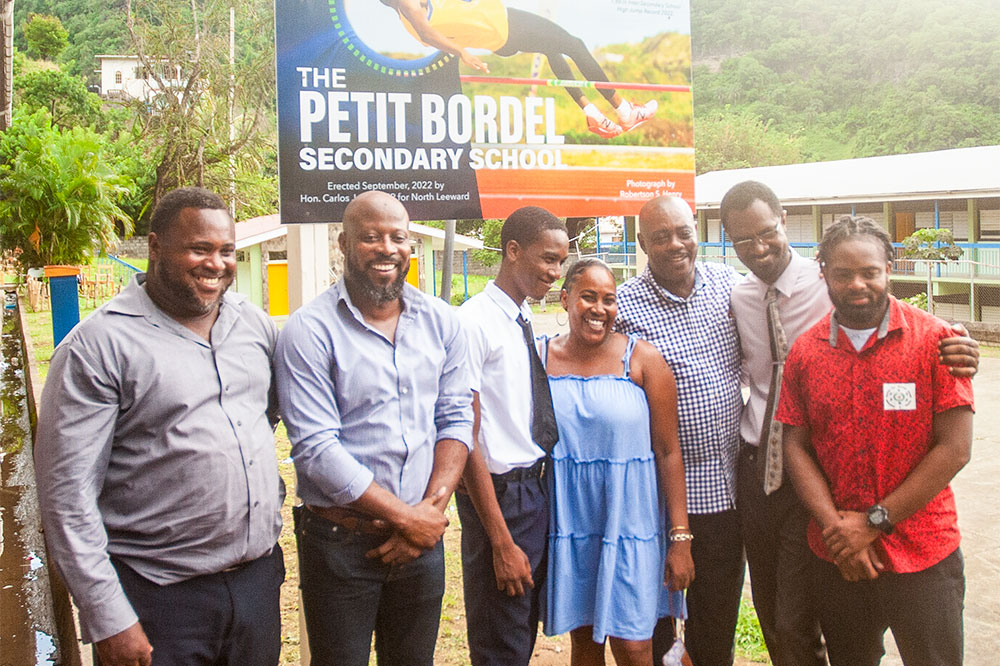 Sports
September 20, 2022
Petit Bordel Secondary School honours athlete with billboard
The Petit Bordel Secondary School last Friday, September 16 recognised its record breaking athlete, Ajay Delpesche by unveiling a billboard in his honour.
Students and staff of the school along with Parliamentary Representative for North Leeward, Carlos James participated in unveiling ceremony on the school's compound.
Representing his school in the Inter-secondary Schools Athletics Championship on Friday, April 8 at the Sir Vincent Beache Stadium at Diamond, Delpesche broke the long- standing Intermediate Division's high jump record with a leap of 1.88-metres. The feat erased the 40-year-old record set by Rohan Saunders-Phillips of the St Martin's Secondary School. Saunders-Phillips' mark of 1.87 metres was achieved in 1987 at the Arnos Vale Playing Field.
Minister of Sports, Frederick Stephenson praised the achievement of Delpesche as he spoke of the continued development of sports in St. Vincent and the Grenadines (SVG), and getting more young Vincentian athletes "into colleges and universities throughout the region and throughout the world." He noted that sports and academics can mesh and bring great success.
Stephenson also charged the students and the community as a whole that, "if you see him (Ajay) making a wrong step make sure you pull him up, and say to him, 'Ajay we have your back and we are looking out for you because we want to see great things from you.'"
James also commended the Petit Bordel Secondary School for two major achievements over the course of the week. These are the celebration of its 46th anniversary and improvements in their CSEC results.
"I have a particular likeness for this school and all the educational institutions in North Leeward. All the talent that is emerging from the Petit Bordel Secondary School, I am indeed proud of Ajay and all of the other star athletes coming from Petit Bordel."
James, who had given his promise to the principal of the school, Kenneth Holder that he would have a billboard erected at the school's entrance to recognise Delpesche's achievement, added, "when you can have an athlete who does not have an aggressive training programme in high jump, who can quite easily as he did break a 40 year record at inter-school sports, is a feat that should not go unnoticed, and is one all of us should celebrate here in North Leeward."
When he went to the podium to speak, to the cheers of scores of students Delpesche said: "Who would have thought that Ajay 'Juice' Delpesche would have been on a billboard? This goes to show that nothing is impossible if you believe that you can achieve."