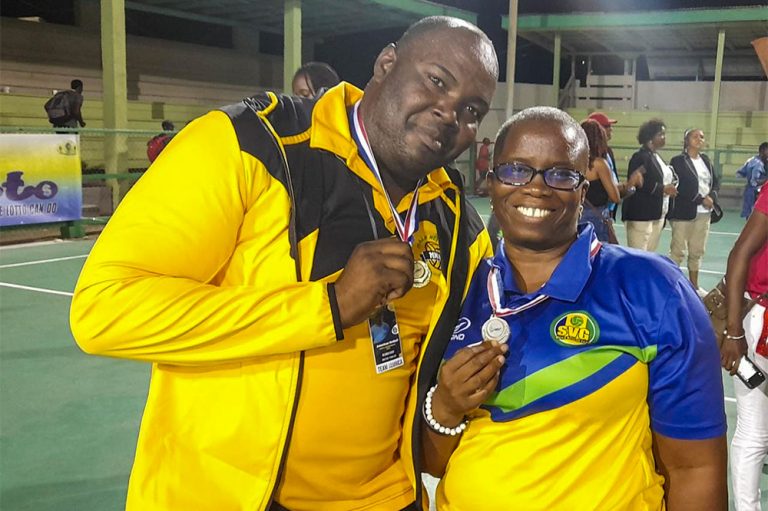 Jamaica's head coach commends Vincentian male netball players
HEAD COACH OF the Jamaica men netball team which won the inaugural Americas Men Netball championship last Sunday September 4, has spoken highly of the skills of the St. Vincent and the Grenadines male Netball team.
"The St.Vincent (and the Grenadines) team is very skilled and they gave us a very good game. For a team which has not played much against foreign opposition, they are a very good team," Sean Murdoch told SEARCHLIGHT in a postmatch interview.
Jamaica won the inaugural tournament which was hosted by the St Vincent and the Grenadines (SVG) Netball Association and played at the Arnos Vale Sports Complex, and SVG placed second.
"I thought they gave a great, great showing at the start of the game. Clearly at the end, they kind of fell out because they probably were not as fit I am assuming. It was a good, good showing by the St.Vincent (and the Grenadines) team."
Murdoch said, "it shows that we have good quality in the Caribbean, so I am not surprised in terms of how they displayed their skills throughout the entire series. They did well against South Africa as well, and it says good for male netball in the Caribbean, and the Americas region."
Meanwhile head coach of the SVG Men's team Natasha Baptist said she was elated at the competitiveness of her players in the four matches played, despite losing to South Africa 40 – 56, and in the tournament decider, going under to Jamaica 33 – 52.
She told SEARCHLIGHT that fitness in the second half made the major difference between the two teams in the second half of the decider.
"I am very proud of my players who have worked very hard to get where they are at, and despite losing to Jamaica, they exhibited a very high skill level."
The September 1-4 tournament involved four Caribbean teams from Jamaica, Antigua and Barbuda, Grenada and St Vincent and the Grenadines in competition. South Africa attended as a guest team.
The SVG male netball team is expected to resume training after a short rest period.