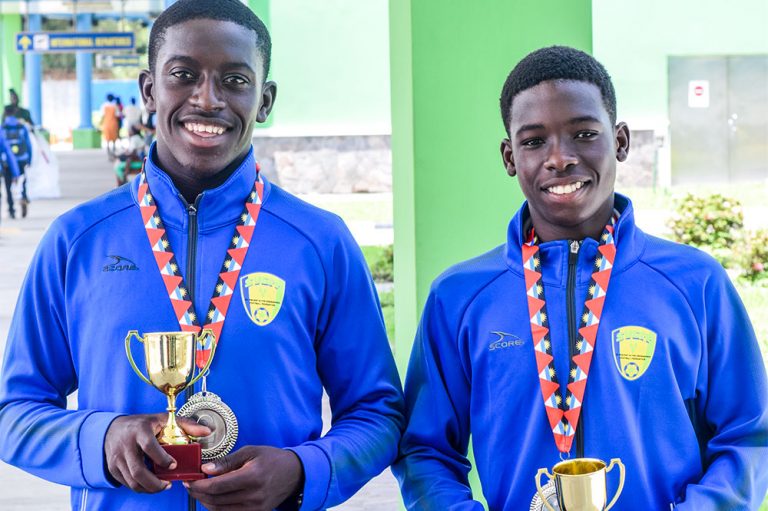 SVG place second, cop two awards at U-17 Football tourney
Two individual awards and second place, were St Vincent and the Grenadines' take away from the inaugural Pride of the Caribbean Under- 17 Football Tournament, staged in Antigua and Barbuda, from August 23-27, at the Antigua and Barbuda Football Association Technical Centre.
The two Vincentian standouts were Imani Miller and Isiah Charles, who were named as Most Valuable Midfielder and Best Offensive Player, respectively. St Vincent and the Grenadines began their sojourn with a 3-2 win over host Antigua and Barbuda, before losing 1-5 to St Lucia.
They then defeated Grenada, 3-1, to finish second to St Lucia in the preliminary phase of the tournament.
The Vincentians had an opportunity against the St Lucians to make atonement in last Saturday's final, but faltered in the penalty kicks, losing 3-5.
This after both outfits had played to a 1-1 draw in regulation time.
Representing St Vincent and the Grenadines at the tournament were goal keepers – Isaiah Barker and Devon Morgan, along with defenders- Nyion Byron, Darson Joseph, Trent Ragguette, Lazaro Lynch, Amaro Charles, Pharon Durham, and Dimitri Thomas.
The midfielders, who made the trip were Javid Richardson, Kijani Thomas, J'Quan Glasgow, Juemar Luke and Imani Miller; and, Mosranny Harry, Keivon Clarke, Prince-Lee Isaacs, AJ Delpesche, Isiah Charles, and Donte Enville, were the strikers.
Completing the travelling delegation were Head Coach- Wayde Jackson, Assistant Coach- Kenyon Lynch and Team Manager- Ronen Francis.