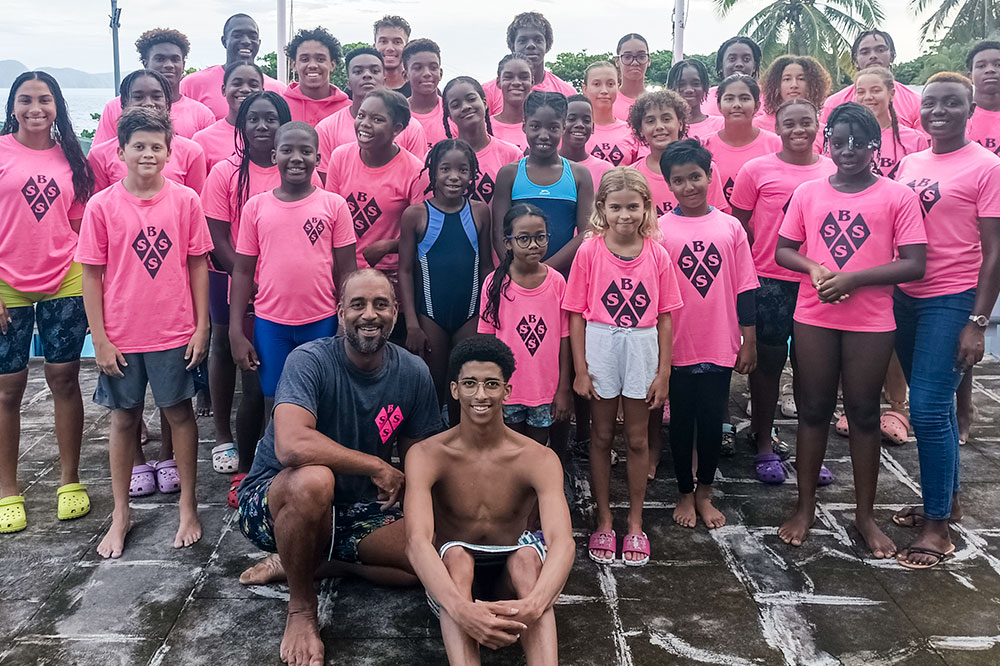 Seven Black Sands Swimmers set new National records in local Championships
Black Sands Swim Squad (BSSS) swimmers set several new records at the August 18-21 Gallagher National Swimming Championships where they won a total of 180 medals.
The tally comprised 58 gold, 59 silver and 63 bronze and ensured they lift the trophy for being the top competing club.
A release from the club said their swimmers were challenged very strongly by Blue Marlins, but the BSSS athletes held the fort to help their club score a total of 1598 points to Blue Marlins' final score of 1289 points, the closest final result to date.
The BSSS swimmers who broke national records were:
Kennice Greene in the 50m freestyle with a new time of 27.13; in the 100m freestyle she set a new record of 1.06.86 and in the 100m IM a new time of 1.11.07 was attained.
Kevern DaSilva set a new time in the 50m backstroke of 31.81; and a new record in the 200m backstroke of 2.39.28.
Mya DeFreitas set a new time of 2.13.98 in the 200m freestyle while Abigail Deshong set a new time of 1.09.13 in the 100m butterfly.
Brandon George in the 100m backstroke set a new time of 1.01.57 and a new record of 2.22.61 in the 200m backstroke; while
Kenale Alleyne in the 100m freestyle set a new national record of 53.01, and a new time of 2:00.09 in the freestyle.
And Shane Cadogan in the 50m backstroke set a new national time of 27.89 and a new record of 25.81 in the 50m butterfly.
St Vincent's para-swimmer, Kentreal Kydd set personal best times in his events which will be recorded as National records once the newly formed para-swimmer record category is established.
Winners for the sprint challenge in the 13 years and over were Kennice Greene and Kenale Alleyne; and taking home the trophies for overall champions were Kennice Greene (girls 13 to 14 years); Brandon George (boys 13 to 14 years); and Mya DeFreitas (girls 15 years and over).
BSSS head coach Kyle Dougan congratulated all the competing swimmers noting that, " SVG has some very good swimming talent starting to emerge and it's great to see National records continually being broken".