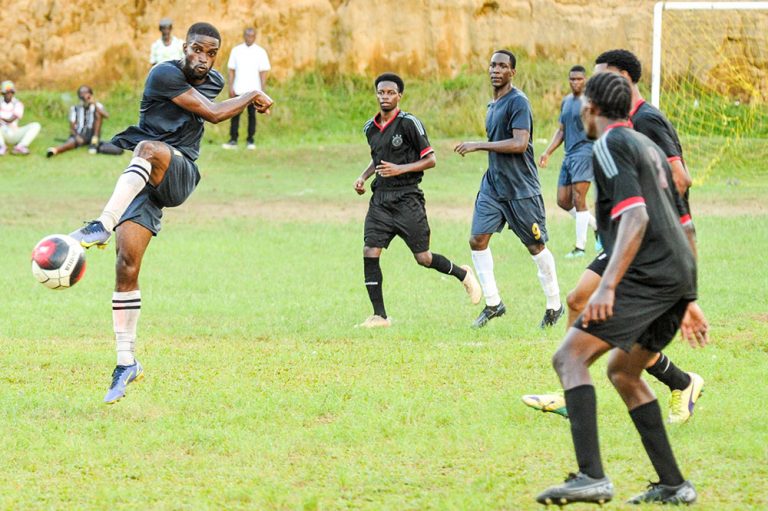 Caesar's World XI takes gold in Diamonds Football Tournament
Caesar's Real Estate World XI, featured highly last Sunday, August 28, when the 2022 Diamonds Village Football League concluded at the Diamonds Playing Field.
Facing Youngsters FC in the final, a 12th minute penalty converted by national player- Azhino Solomon was the winning shot as World XI trumped 1-0.
However, Youngsters FC only had themselves to blame, as their talisman Nazir Mc Burnette missed his penalty, thus denying his team the equalizer.
World XI thus gained the title trophy, medals, the Challenge Trophy to keep for one year, as well as a cash prize of $ 2500.
Meanwhile, Youngsters FC got a trophy, medals and $1000.
Taking the third place was SV United, who defeated Computec All Stars, 3-1 in the third place play off that preceded the final. SV United received a trophy and $500.
Several awards were presented following the final game. Caesar's Real Estate World XI's Terrason Joseph claimed the player of the final trophy, with his team mate, Jahvin Sutherland adjudged the best defender.
Taking the best goal keeper award was Sparta FC's Elron Baptiste. Juma Gilkes of Computec All Stars gained the best midfielder award, with Nazir Mc Burnette of Youngsters FC, getting the awards for most goals scored Mc Burnette netted 11 goals.
And, Osaei Delpesche of Greiggs got the award for the best upcoming young striker. Apart from receiving a trophy, the awardees were each given $100.
Twelve teams contested the competition.