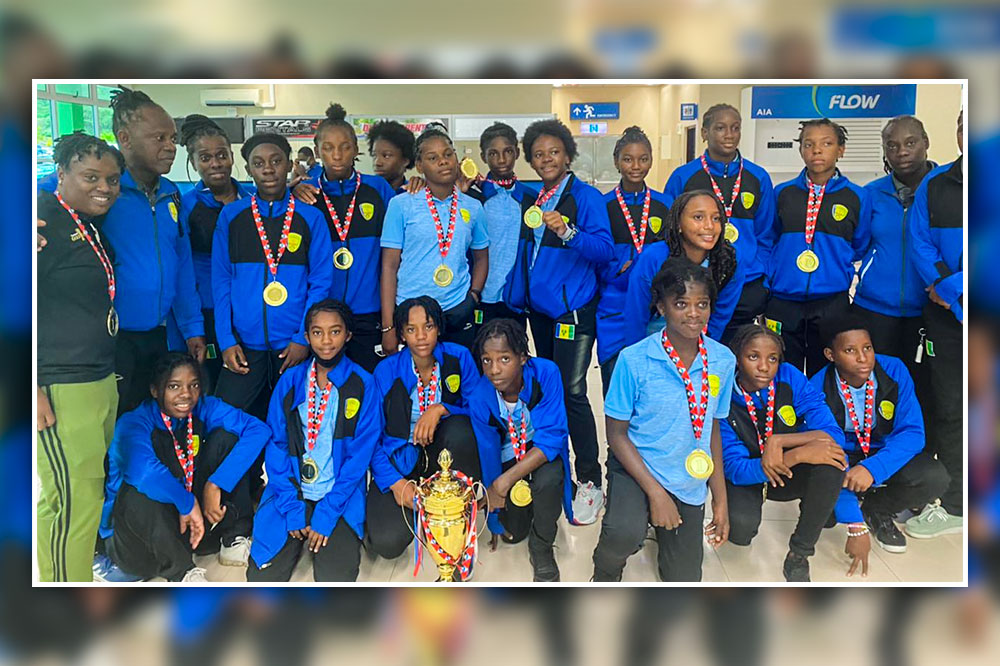 SVG's U-15 girls top Jewel of Caribbean Football tournament
St Vincent and the Grenadines (SVG) U-15 Girls champed the inaugural Jewels of the August 13-21 Caribbean Invitational Tournament held in Antigua and Barbuda.
The Vincentian lasses finished the tournament with two wins , one draw and one loss.
They beat Dominica 4-0, thanks to goals from Meiya Wilson who had a brace; there was a goal each from Nevaeh Richards and Nasheeka Prescott. The other win came against Grenada, with Prescott scoring the lone goal in their 1-0 triumph.
St Vincent and the Grenadines drew 0-0 with Grenada but lost 2-3 to St Lucia. Meiya Wilson netted both goals for the Vincentians.
Both St Vincent and the Grenadines and Grenada finished on seven points each, but St Vincent and the Grenadines trumped the title by virtue of having a superior goal difference.
Additionally, the Vincentians pouched two individual awards.
G-Riesa Joseph was named the top Goal Keeper and Kellisha Bowens, the best defender of the tournament.
Coming out champions, delighted the team's Head Coach, Keith Ollivierre.
He said, " The overall performance of the team was not too bad, the girls were excited, they were energized".
Ollivierre said he was particularly pleased with the team's never say die attitude.
"They had that fighting spirit in terms of getting back the ball whenever they lost it", Ollivierre commented.
Dissecting the team's efforts on the various thirds, Ollivierre said, "in the defensive third we were quite good because we had fewer goals scored on us, however we had a little problem in the middle third and the attacking third which we can rectify going forward, once we can keep the girls together".
OIlivierre believes that the overall performance of the team augurs well for the development of the youth Football structure here in St Vincent and the Grenadines.
He noted as well that the methodology used in selecting the team proved a good one in the absence of a national competition.
"We had a country-wide selection where we selected the cream of the crop, namely the persons whom we think were ready for us to go and compete regionally, " Ollivierre stated.
In this process prospective players trained and competed in their zones, then were engaged in zonal play-offs, before the final team was selected to travel to Antigua and Barbuda.
The Jewels of the Caribbean Tournament was arranged among the five participating territories consequent upon the inability of countries to secure US visas and vaccine mandates for the Concacaf tournament.