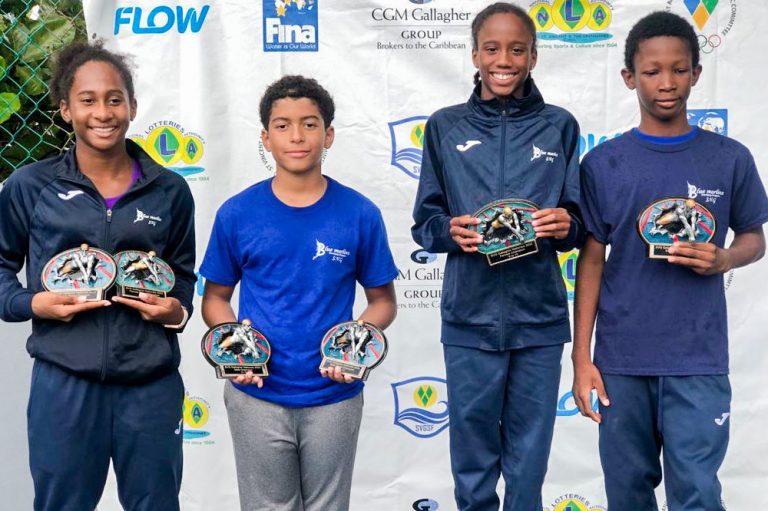 Swimmers give their all at SVG Gallagher Championships
The 2022 SVG Gallagher National Swim Championships, undoubtedly, was one of the more competitive events in the history of the sport as the swimmers left it all at the Shrewsbury Aquatic Centre at Ratho Mill in four days of action from August 18 to 21.
When the scores were tallied and the timing apparatus removed, the various individual winners were justly rewarded for their efforts.
Taking the Girls 8 and Under was Skylar Byron who compiled 70 points; the Boys 8 and Under champion was Taj Henry with 68 points. The two Blue Marlins swimmers added the age group Sprint Challenge trophies to their collection.
Blue Marlins also dominated the 9-10 age category with Belle Adams topping the Girls on 117 points, while Jadon Hamilton dominated for the Males, amassing 121 points.
Meanwhile, Tayeah St Hillaire was double winner for Blue Marlins. She took the Female 11-12 title with 93 points and was the 9-12 Sprint Champion.
Adding another title for Blue Marlins was Hazen Dabriel who pouched the Boys 11- 12 title as he gathered 119 points. Dabriel took the 9-12 Sprint Champion accolade.
Moving up the age grouping, Kennice Greene of Black Sands Swim Squad won in the Girls 13 -14 with 102 points, and Brandon George, also of Black Sands Swim Squad, took the Boys 13- 14.
George tallied 92 points.
Greene also took the Females 13 and Over Sprint Champion title.
And, with a score of 92 points, Mya De Freitas of Black Sands Swim Squad took the Female 15 and Over title while Grenadian, Dejanel Williams won the Male 15 and Over. Williams scored 83 points.
The other award presented went to Kenale Alleyne of Black Sands Squad, who claimed the Male 13 and Over Sprint Champion title.
Black Sands Swim Squad led the title with 1589 points and Blue Marlins scored 1289 points.
During the four days of championships 15 records were reset.
Kennice Greene was responsible for three, while Kevern Da Silva, Brandon George, Kenale Alleyne, Shane Cadogan and Jadon Hamilton, each rewrote two, and Mya De Freitas and Abigail De Shong each had one.