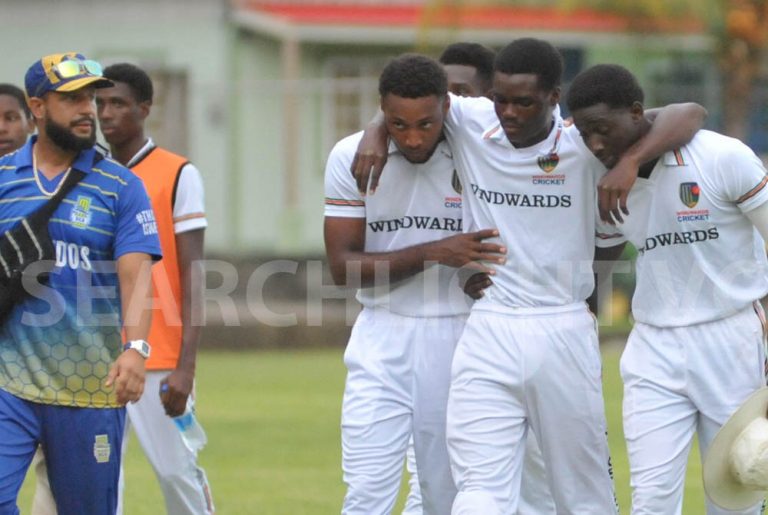 Player knocked unconscious in Cricket West Indies Under-19 match in St Vincent
Day one of the three-day Cricket West Indies (CWC) Under-19 clash between the Windward Islands and Barbados ended in near tragedy on Saturday when a player was knocked unconscious.
In a match at the Park Hill Playing Field in St Vincent, Windward Islands cricketer Jerel Jeremiah was hit by a pull shot from Barbados opening batsman Hakeem Perryman in fading light at about 5:54 p.m. on August 20.
Jerlani Joseph bowled ball number 4 of the sixth over into the Barbados Under-19 first inning, and Perryman latched onto the pitched ball just short of a length, and Jerel Jeremiah fielding at short-leg, got hit about his right ear.
The ball ricocheted onto his foot and fell onto his back; he was knocked unconscious.
Players, umpires, and the Barbados team's physiotherapist rushed to his side and after a few minutes he was helped to his feet, and assisted to the medical tent.
There the Barbados physiotherapist assessed him, and according to one official, Jeremiah travelled back to the Murray Heights Hotel in Kingstown where the Windward Islands Under-19 team is staying.
The official revealed that the Barbados team's physiotherapist is monitoring Jeremiah for signs of after-effects of the blow, and was calling at intervals to speak with him to ascertain his condition.
The official told Searchlight that he is keeping his fingers crossed that Jeremiah does not have a concussion, and that he will be rendered fit in the coming days by a medical doctor.
Meanwhile the scores at the end of a shortened first day in the match are that the Windward Islands, having won the toss and batted, were dismissed for 153 in 61 overs. Skipper Stephan Pascal top-scored with 52, Kirt Murray made 43, Noelle Leo 21, and Kevin Gassie 10. No other batsman reached double figures.
Bowling for Barbados, Jayden Roberts took 3 for 42, Tariq O'Neale 3 for 21, Nathan Sealy 2 for 12, and Johann Layne 2 for 38, with 9 extras bowled.
In response, at the end of the day one in the third round 2022 Cricket West Indies Under-19 clash, Barbados were 11 without loss; Hakeem Perryman 11 not out with 1 four and 1 six.
The amount of cricket played was affected by a damp spot next to the wicket, then a brief rain enforced stoppage, a further delay which saw the day's play reduced to 70 overs.
[UPDATED at 6:54 am on Sunday, August 21 to correct the date on which the incident occurred.]