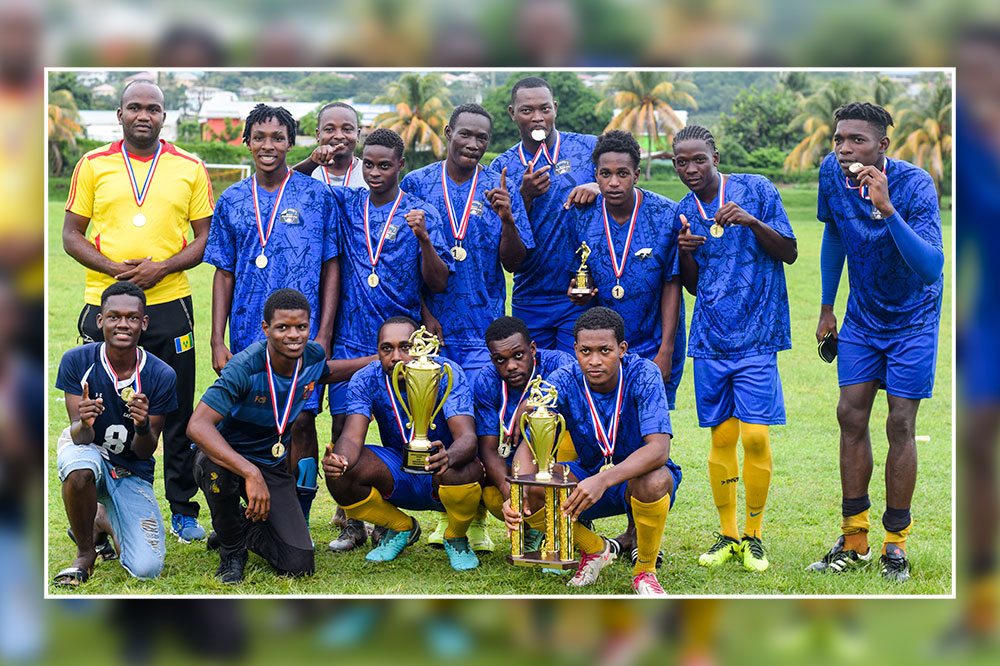 Glenside Ball Blazers boss AFL
Glenside Ball Blazers added the Knock-Out title, to their already won League title last Sunday afternoon at the Arnos Vale Playing Field, to be the double champions of the Comsports Arnos Vale League (AFL).
Glenside Ball Blazers had to rely on penalty kicks over Strike Force to lift the winner's trophy and the $200 cash award. The two had played to 0-0 stalemate in regulation time, before Glenside Ball Blazers won 3-2 on penalties.
The match could have been decided in regulation time had the Glenside Ball Blazers, made good of the many chances afforded them.
At the presentation and closing ceremony that followed, Glenside Ball Blazers got a trophy and $200 for champing the Knock-Out.
For winning the League, Glenside Ball Blazers collected $1,700 and medals, while second place Police were awarded $1,000 and medals and third place Blossom Unlimited were third, earning $500.
It was the second straight occasion that Glenside Ball Blazers were topping the league, having done so in 2021, the last time the AFL was held.
Blossom Unlimited's Jamary Davis got the nod for being the leading goal scorer with five goals from eight matches, while Yaszeem Dascent, who also scored his five goals, did so from nine matches.
Also rewarded were the MVPs of the nine teams that contested the league.
The recipients were Kahlique Fraser – Blossom Unlimited, Delroy Sandy – Strike Force, Saied Da Breo – RSVG Police, Yaszeem Dascent – Glenside Ball Blazers, Skiey Bailey – Toni Stores Jugglers , Joveanni Forde – Stanley Browne Fair Hall and Mazhino Solomon – Sharpes FC.