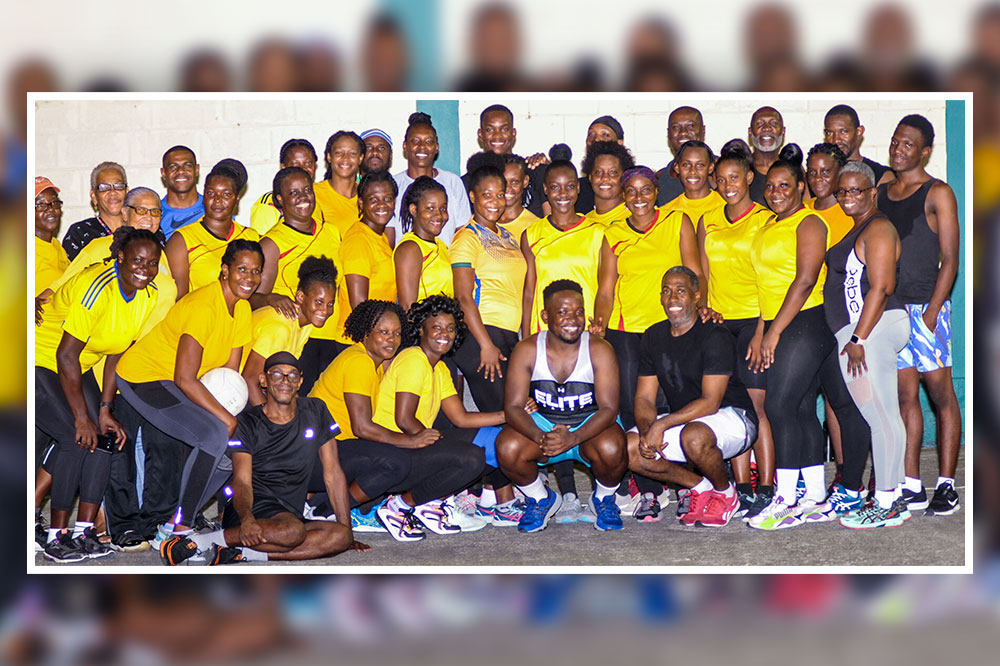 Sancho tells players to stop complaining and get on with it
One day after the majority of the world observed Emancipation Day on Monday August 1, former WNBA player, Vincentian Sancho Lyttle, spoke to the St. Vincent and the Grenadines male and female national netball training squads on attitude and teamwork. The male netball team is preparing to compete in the America Male Netball Tournament scheduled to be hosted in St. Vincent and the Grenadines August 31 – September 05, while the females are preparing for Netball World Cup Qualifiers in Jamaica, October 15 – 22.
On Tuesday, August 2, Lyttle told the players assembled at the Nutricia netball court, that she was not going to give a motivational speech. She spoke to them based on her observations of their practice sessions, stating "if you want to be good, you got to stop complaining. Coaches listen to that. If we keep complaining, all the negativity is going to the next person, and to the next person, and then the whole team."
Lyttle was invited to speak to the players by a former national team mate, Vasha Adams. The WNBA veteran told the players that if one makes a mistake, and there is punishment for the mistake, then do the punishment and return. "Forget about what it is. Just go quickly and come right back. If somebody else did the punishment, and you also got punished, it's a team."
She told them teams make mistakes. "When you lose, you lose as a team. When you go into your hotel room, then you complain. Never complain in front of teammates, that brings down your team morale; that breaks up the whole team. Been there, done that."
Reflecting on her playing days in St. Vincent and the Grenadines, Lyttle said "When we were playing in the Under-23 national team, we were such a tight-knitted group, that even when we lost a game, we never disbanded. We would go back to the same room and we will eat and we will say well, we're going for the next game."
She advised them that "Some people are not as quick as other people. You got to look out for each other", and at training sessions to "make it difficult for your teammates during practice, so when you get to where you going it won't be as hard, because you have seen it before."
President of the St. Vincent and the Grenadines Netball Association Natasha Baptiste, thanked Lyttle for her encouraging words.
"I know that our young ladies have been working, pushing, and it is good sometimes to hear the observation from someone who has not been around with them all the time. Many times we would see some of that. It will probably go in one ear and come out the next ear, but we heard it from someone else who came to the session and observed what was happening.
"I am hoping that it will stick. We want to thank you. We know that you have made a valuable contribution to St. Vincent and the Grenadines, put us on the map when it came to female basketball and we wish you all the very best."
Lyttle, who stands at 6 feet 5 inches, is a 15-year WNBA veteran with the Houston Comets (2005-08), Atlanta Dream (2009-17) and Phoenix Mercury (2018-19). She is one of four players to rank in the top-15 on both the WNBA's all-time rebounds and steals list.
The former WNBA star was a standout sprinter growing up, representing St. Vincent and the Grenadines in the 400m and 300 hurdles. She played netball growing up, but did not start playing basketball until she was 17-years-old and in high.
She attended the Girls' High School, Clarendon College, and at the University of Houston, majored in Kinesiology and minored in Health. She was awarded Spanish citizenship after competing in Spain for a few years during the WNBA off season.
Lyttle concluded her career after making nine play-off appearances (2019, 2018, 2014, 2012, 2011, 2010, 2009, 2006 and 2005) and three WNBA Finals Appearances (2013, 2011 and 2010). She was a two-time All-WNBA Defensive First Team selectee (2014 and 2012) and four-time All-WNBA Defensive Second Team selectee (2015, 2011, 2010 and 2009). She was selected as an WNBA All-Star during the 2009 season.