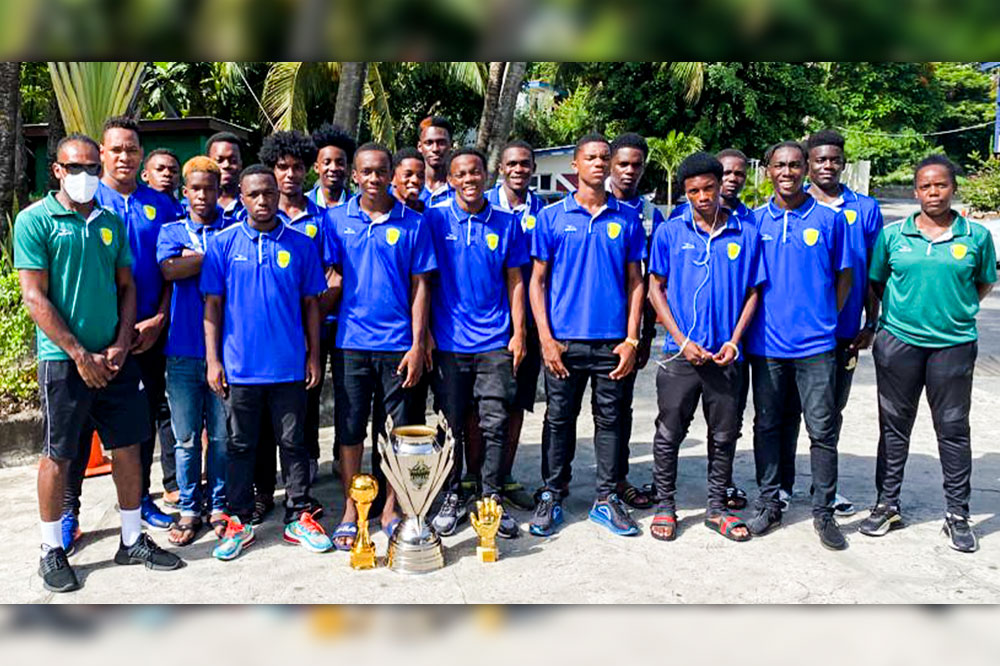 Vincy Ballers all the way in Free Kick Youth Cup
Vincy Ballers went all the way in the Free Kick Youth Cup (FKYC), which was staged at the Daren Sammy Cricket Stadium in St Lucia, from July 27 to August 1.
The title of 2022 champions, was secured last Monday, August 1, when Vincy Ballers showed their dominance, beating St Lucia Select XI, 3-1 in the final.
Vincy Ballers' goals were scored by their talisman Bishon Richards, who hit a brace, to take his tally to seven in the competition. Denzel Bascombe netted the other, in the process registering his fourth.
Not only did the Vincentians lift the title, but they played unbeaten in the competition.
When Vincy Ballers got their campaign off and running, they played to a stalemate with Lil Haiti, but found their groove in their second match, defeating Real Betis 8-0, via double strikes from Kirtney Franklyn, Bishon Richards and Steven Pierre, while Denzel Bascombe and Enroy Edwards added single strikes.
With their engines fully revved, Vincy Ballers overcame Harlem United 6-1.
On the scoresheet for Vincy Ballers, were Shemron Phillips, with two goals, along with single strikes from Jamary Davis, Tavonte Forde, Richards and Pierre.
In their final match of Group B, Vincy Ballers, after leading the match, allowed St Lucia Select XI, to draw 3-3. A goal each from Bishop Richards, Shemron Phillips and Denzel Bascombe accounted for Vincy Ballers' tally.
Vincy Ballers ended the group play second to St Lucia Select XI , with two wins and two draws.
This pitted Vincy Ballers against TrinCity Nationals in the semi-finals. Richards and Bascombe were the goal scorers in Vincy Ballers' 2-1 triumph and it earned them a rematch in the grand finale versus St Lucia Select XI.
Richards was named the MVP of the competition, while Josh Stowe received the award of best goalkeeper.
Meanwhile, the midfield duo of Richards and Phillips, along with defender Joevel Morgan, were named on the Group B All Stars XI.
Apart from the 18 selected players, Vincy Ballers were accompanied on the St Lucia trip by Shadel Cyrus, manager and Alnif Williams, head coach.
The aim of the FKYC was to provide footballers under the age of 19, the opportunity to showcase their wares against their peers as well as gain full funded scholarships to colleges and universities, mainly in the USA.