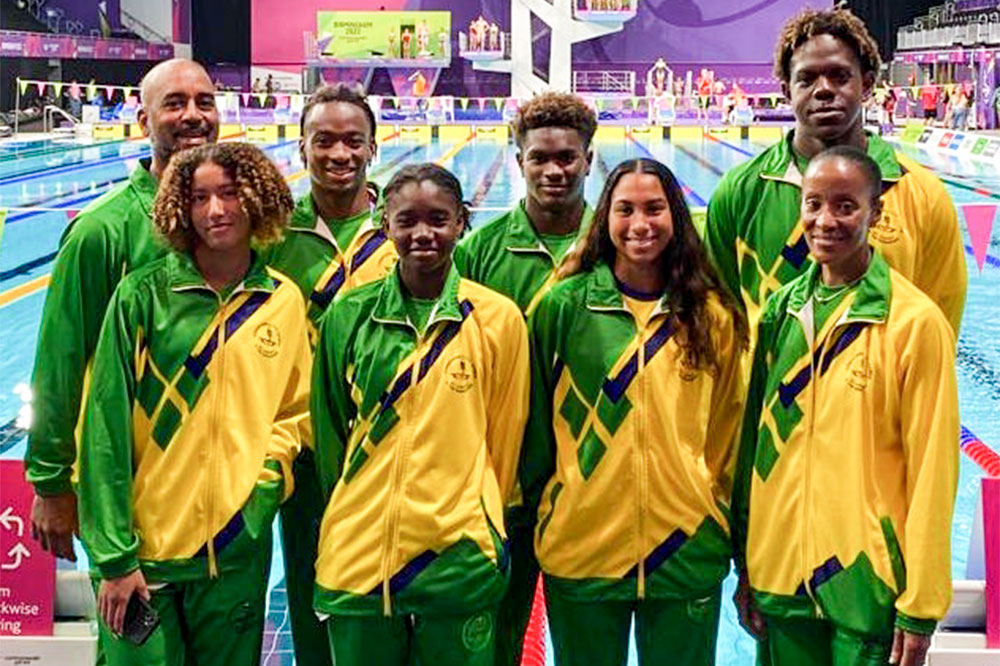 Swimming leads Vincentian performance at Commonwealth Games
The discipline of Swimming led St Vincent and the Grenadines' performances thus far at the XXII Commonwealth Games, which culminates next Monday, August 8, in Birmingham, England.
This, as there were two new national records that were reset. Additionally, all six swimmers were able to achieve at least one personal best.
Rebooted at the Games, were the Girls 13 to 14, 200m Backstroke and the Men's 50 Backstroke.
Jamie Joachim shaved 0.09s off the previous mark of 1:12.49, in the 200m Backstroke, lowering it to 1:12.40. The previous record holder was Jamie's sister Shne.
Meanwhile, Shane Cadogan reset his own Men's 50m Backstroke, timing 29.89 seconds, down from the 30.05 seconds.
These two times were also Joachim and Cadogan's personal bests in the events.
For Joachim though, the Commonwealth Games proved to be a happy outing for her, as she also established a personal best in the 50m Backstroke (30.90 seconds).
Joining Joachim in posting multi-PBs was another female, Abigail De Shong, who reset her best in the 50m Freestyle, 50m Backstroke and the 50m Butterfly.
She also posted PBs in the 50m Freestyle and the 50m Breaststroke.
The other two male swimmers were not to be left out, as Kenale Alleyne bettered his previous bests in the 50m Backstroke and the 100m Freestyle, and Bryson George attained new personal bests in the 50m Butterfly and 50m Backstroke.
Commenting on his charges' performances, National Head Coach Kyle Dougan was elated at their efforts, and put it down to reward for hard work.
"They have trained extremely hard pretty much the whole of this year, focusing on these events and now we are seeing the results of hard work… They have managed to deliver and so they have represented St Vincent and Grenadines extremely well… I could not be prouder to be a coach or a national coach, as the athletes have done absolutely fantastic… I could not ask for anything more, apart from when we go back (to St Vincent and the Grenadines) that we continue to train even harder," Dougan related.
The group of six who represented St Vincent and the Grenadines at the Commonwealth Games, was the largest Swimming contingent to do so at a Games of that magnitude.