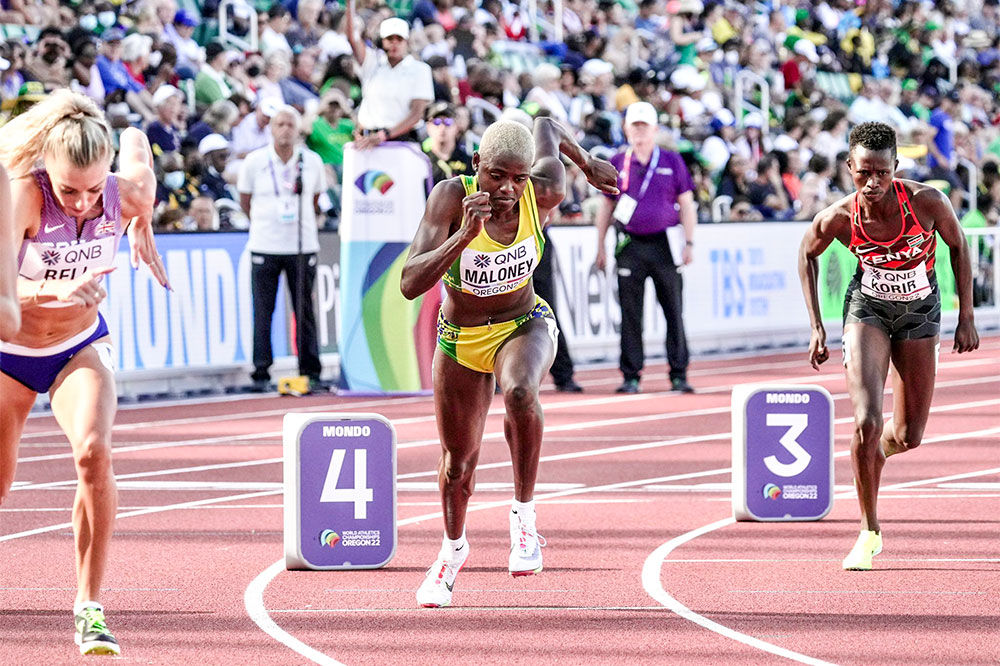 Shafiqua Maloney out of Commonwealth and NACAC games
SHAFIQUA MALONEY, St Vincent and the Grenadines lone competitor at the 2022 World Athletics Championships hosted in Eugene, Oregon, USA, did not progress beyond the first round of competition, finishing sixth in Heat 1 of the Women's 800 metres, in a time of 2:03.00 minutes.
Maloney, who is ranked 88th in the world, finished ahead of Addy Townsend of Canada, who crossed the line in 2:03.79 in the race which was run on Thursday, July 21, 2022.
Meanwhile, Maloney, via a Facebook post on Saturday, July 23, 2022, has informed the Vincentian public that she will not be competing at the 2022 Commonwealth Games in Birmingham, or the NACAC Championships.
According to Maloney's Facebook post: "I will not be competing at the Commonwealth Games or the NACAC championships. No fault of my athletics association or the SVGNOC.There are some things I need to put into place to ensure my continued success after school and that prevents me from representing my country for the remainder of the year."
She further stated that "Despite my performance a day and some ago, there is still an immense amount of support coming from friends and family, along with supporters! Not pleased with my performance because I KNOW for a fact I am better than what I did. But the support has been helping me through the disappointment. Sometimes we wish for a certain outcome, but the Lord has other plans. I will find comfort in knowing he has other plans for me."
She extended thanks to Team Athletics SVG, the
St.Vincent and the Grenadines National Olympic Committee, family and friends "for the overwhelming support over the years", and the "The Razorback community for aiding with my transition from school to the professional circuit.
My coach, Chris Johnson, who has coached me to be the athlete I am today."
There is no indication when Shafiqua Maloney's next outing will be, as she did not give any indication how much time she will need away from the sport.