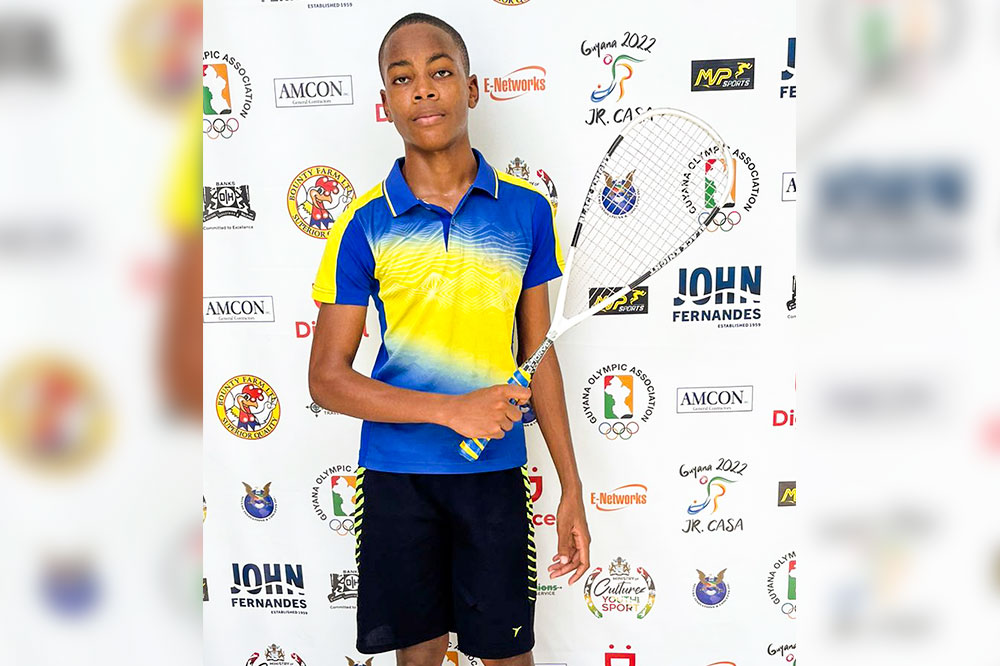 Vincentians mine two golds at Junior CASA
TWO TITLES,THE Boys Under-13 and the Boys Under-15 , highlighted St Vincent and the Grenadines' participation in this year's singles segment of the Caribbean Area Squash Association (CASA) Championships.
Mining the gold medals were Jayden George and Jaydon Williams.
Both earned their top spots last Tuesday, July 12, at the Georgetown Club in Guyana.
After navigating the quarter finals and semi-finals, George squared off against Owen Rosorea of the Cayman Islands in the final; George maintained his winnings with an 11/5, 11/4, 11/4 win over his opponent.
In the quarter finals, George beat Brenno Da Silva of Guyana 11/2, 11/2, 11/0 and versus Daniel Sealey of Barbados in the semi-finals, he trumped 11/5, 11/1, 11/2.
It was George's second successive title, as he claimed the 2019 Under-11 crown, the last occasion the championships were held.
Meanwhile,Williams champed the Under- 15 title, beating Nicholas Lequay of Trinidad and Tobago in the championship match, 11/5, 11/2, 7/11, 11/8.
Williams saw off Guyana's Noah Ramaran 11/2, 11/3, 11/1, in quarter final play and had an 11/3, 11/1, 11/3 ousting of Chad De Abreu, to reach the final.
St Vincent and the Grenadines had to however settle for a fourth place in the Girls Under-17 via Nadira Morgan, while Ciara George was sixth in the Girls Under- 15.
Morgan got off to a good start, beating Karissa Mugal of Trinidad and Tobago, 11/0, 11/1, 11/0.
She however could not continue, losing to Katherine Rusden of Jamaica 5/11, 5/11, 1/11 in the semi-finals and was also beaten by another Jamaican- Sanjana
Nallipati 5/11, 6/11, 5/11, as they sought the third place.Thus, Morgan had to settle for fourth.
And, Ciara George finished sixth overall in the Girls Under-15.
She lost her quarter final match versus Rose Paulos of the Cayman Islands 12/10, 2/11, 11/0, 5/11, 7/11.
This put her to vie for the minor places in the consolation plays.
George then beat Mya Francois of Trinidad and Tobago 11/8, 11/8, 11/5, in the consolation quarter final, and defeated Olivia Sherratt of the Cayman Islands, 3/11, 11/6, 11/5, 11/8, in the semi-finals.
But George fell to Melanna Lammtagne of the Cayman Islands in the consolation final, 8/11, 3/11, 6/11.