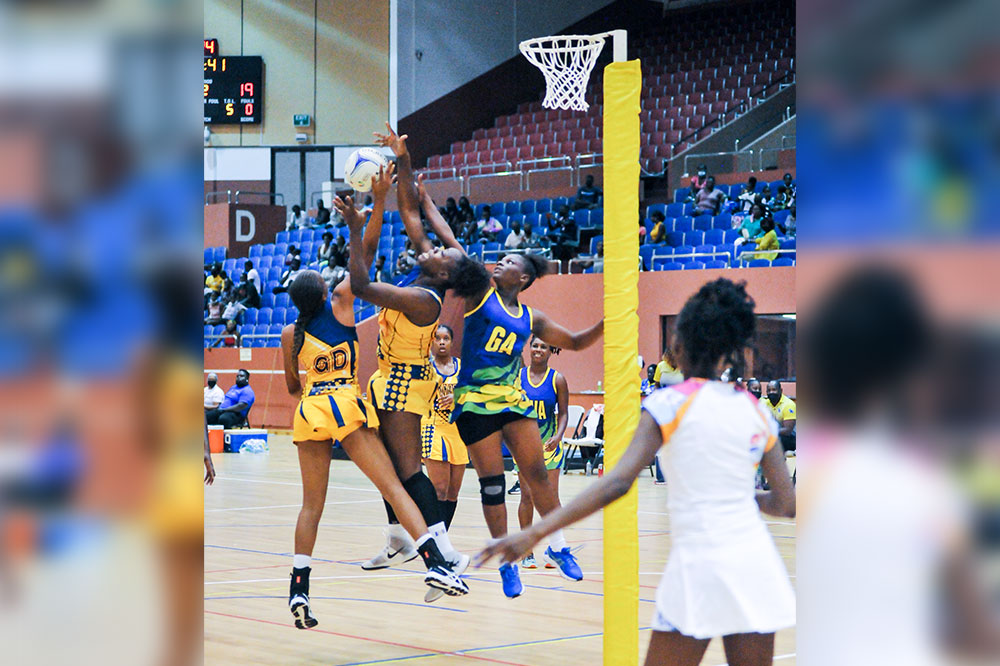 Netball scores do not reflect competitiveness on court – coach
ST.VINCENT AND THE Grenadines (SVG) lost all three games in the Invitational Netball Series against the Barbados Gems held from July 8 to 10 at the Sir Garfield Sobers Gymnasium in Barbados.
The SVG team lost 32 – 48 on Friday; 44 – 57 on Saturday; and 55 – 46 on Sunday.
"The score lines in our games in Barbados do not demonstrate what the girls actually did and gave on the court," team coach Natasha Baptiste said, adding that all matches were very competitive.
Veteran defence player Vasha Adams was pleased with the team's performance on the final night. "… I am so pleased with the performance, especially the defenders.We worked on something in practice and they delivered tonight. The score line of the game did not determine the ability of the players.We know we have to work on our fitness. We know there is stuff that we have to work on, because we are meeting Barbados again, and Jamaica, and Trinidad, so we still have a lot of work to do."
Another member of the SVG team, Ruth Ann Williams felt more time was needed to prepare. "We have been preparing for maybe two months or so.We have been working hard, with Covid, and all we tried to do it. …then as the invitational tournament to Barbados got closer, we added two other days, so we were training three days per week.We needed more time to prepare, but the invitation came kind of abruptly. So we just took it up as a learning experience for both us and the Bajan Gems going into the Commonwealth Games."
Williams pointed out that going into the first game, despite there being good team spirit, some persons were a little jittery. "We did fairly well in the first game; we improved a lot in the second game. But we needed to be more consistent in all four quarters of the game,"Williams said.
She was brutally honest in identifying the areas that the team needs to work on as their focus now the Netball World Cup Qualifiers in Jamaica in October.
"We have to work on mental fitness, mental focus, mental strength, and also physical. The game tonight (Sunday), it was our best game for the series, we worked hard.We had the training sessions in the morning, which we would assess after every game and try to improve on what we do, where we went wrong.
"So tonight's (Sunday) game, we really, really worked hard as a team, we had a lot more focus. But we still need that mental strength.You know, when things get tough, we cannot just give in, give up. So when we go back home, we are going to continue training, working on mental strength and fitness.
"I think this series was a learning experience for everybody. And as we go back home, we are going to take what we have learnt here and continue preparing for the World Cup qualifiers."
Speaking to the other members of the training squad who did not make the trip to Barbados, Williams said: "It is one thing to be looking on screen, but another thing to actually be on the court. Some of you might be saying, oh, St Vincent could have won those games, but we fought hard.
"I am encouraging everybody to come to train, so we can share our experiences from this tournament and we can work from there because for the World Cup qualifiers, we want our 'A' team to go, so everybody needs to come to training and put in the work. And hopefully, you know the coaches can pick the best. It does not matter who it is, once it is the best that St Vincent has to offer.We are fine with that, so just encouraging everybody to come to train."