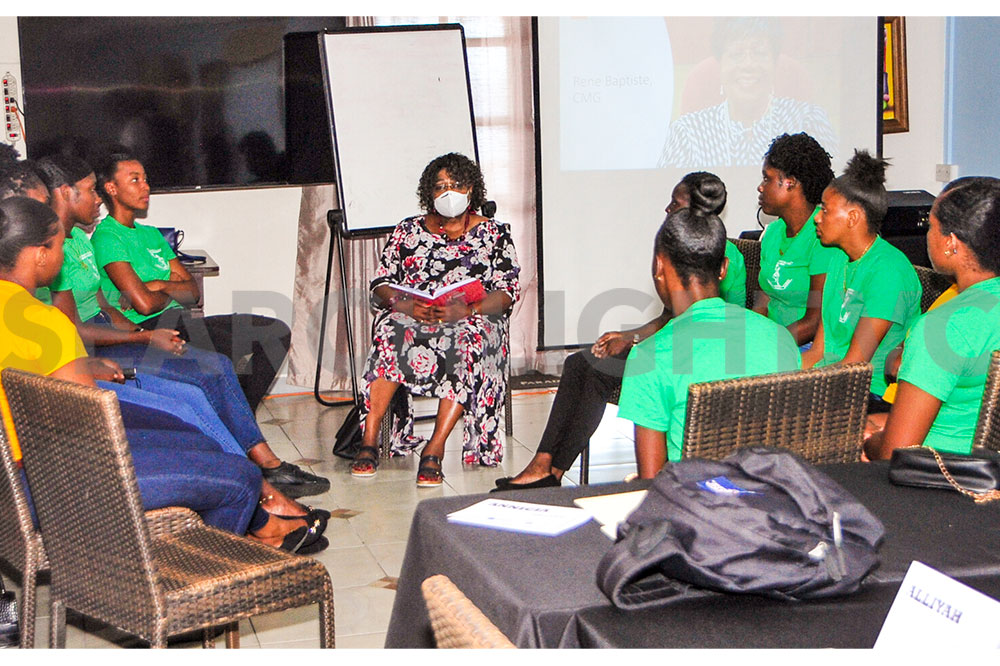 Under-23 Netball squad engages in development workshop ahead of CANOC Games
The National Under-23 netball team that would be representing St Vincent and the Grenadines (SVG) at the upcoming CANOC Caribbean Games in Guadeloupe were engaged in a one day development seminar last week as part of their preparation.
Several persons addressed the 12 young ladies on a range of topics ahead of their departure next Monday, June 27 for the June 29-July 3 games.
"I want to say big-up, congratulations to so these 12 beautiful, hard working, committed disciplined young ladies," Director of Sports, Nelson Hillocks told the team at the session last Sunday, June 19 at the Paradise Inn Hotel.
Hillocks said he is sure that "there are over 10,000 young ladies in this country, and I know a good bit of them playing netball because netball is the female sport of choice in St. Vincent (and the Grenadines); and for you to be in that top twelve, you have to be doing something good."
Last Sunday's session was organised by the St. Vincent and the Grenadines Netball Association as part of its programme to prepare the young netballers for the Games.
Hillocks assured the team, "you will make us good ambassadors and I am confident that you are going to be the champions of the CANOC Games in netball."
Former national cyclist and trustee, coach and commissionaire for the St. Vincent and the Grenadines Cycling , Shimano Bailey, spoke to the team on 'How to cope with Competition'.
While Speaker of the OECS Assembly, Rene Baptiste, who is also the Patron for Netball, gave the young ladies advice on ambassadorial representation.
And first vice-president of the St. Vincent and the Grenadines Netball Association, Sharlene Wyllie, dealt with self-esteem and goal-setting in a fun and interactive session.
Congratulating the netball association for organising the day's activity, Hillocks said, "We have to do these with our athletes, we have to do these kinds of developmental work".
He added that it makes no sense going to the airport to see off and welcome teams and necessary developmental work is not done.
"We have to do these kinds of work first,"Hillocks stressed.
He cautioned the young ladies, saying, "do not put God out of your thoughts, and you need to respect your association and respect your spectators. For this team here to be the champions of CANOC, you have to be disciplined and disciplined in the true sense."
The Under-23 squad to the CANOC Caribbean Games in Guadeloupe comprises: Kristiana Christopher, captain; Shania Pompey,vice-captain; Kayjuanna Bacchus, Shainaya Clement, Annicia Dallaway, Aaliyah Jordan, Monelle Lavia, Khylia Miller, Nyia Miller, Zanique Vincent, Sherrisa Yorke, and Yanneisha Scipio.
The team will be managed by Sylvorn Lewis-Harry; the coach is Dellarice Duncan and Woodrow Williams is trainer.