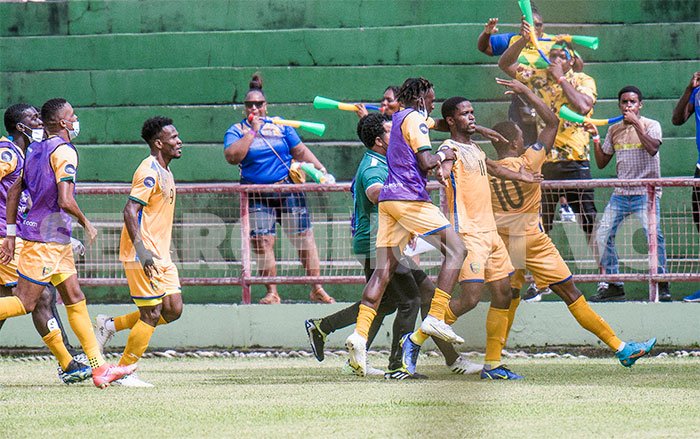 Vincy Heat draw 2-2 against Nicaragua
The National Senior Men's Football Team,Vincy Heat drew 2-2 against Nicaragua on Monday, June 6 in their second match in Group C of League B in the Concacaf Nations League Qualifier at the Arnos Vale Sports Complex.
Left-winger, Azinho Solomon scored in the 3rd minute to put Vincy Heat ahead, but Nicaragua equalized in the 22nd minute through Byron Bonilla and went ahead in the 41st minute with a goal from Matias Moldskred Belli.
Centre forward, Oalex Anderson scored for Vincy Heat in the 4th minute of injury time of the first half, to put the match 2-2.
The St Vincent and the Grenadines Football Federation (SVGFF) in a release quoted head coach, Kendale Mercury in an interview after the match as saying that,"The performance was gutsy on our side, the boys played with a lot of heart, especially in the second half and it goes back to three things that we branded the team with since 2019, passion, pride, and heart and we saw that on Monday against Nicaragua."
Mercury added that "the only drawback is that we didn't gain our three points however, our objective is to win and go directly into the Gold Cup so you would see that display on Friday 10th June against Trinidad & Tobago and we continue to encourage the nation to support the team."
Captain, Cornelius Stewart commenting said, "We played with heart and character though it was unfortunate that we didn't come out with the maximum points at the end of the match against Nicaragua, we will now focus on the match on Friday to get maximum points as this is a vital game."
"We knew it was a game that needed a good result to keep our dream of going directly to the Gold Cup. So we were pumped and ready to defend our home with pride. We didn't get the three points but, it was a performance that we could be proud of, the captain added.
He said, "personally, it was a dream come through for me to score on home soil at the Arnos Vale stadium. That is a moment I've dreamt about since I was a youngster". And, Solomon who drew first blood for Vincy Heat is encouraging "the fans to come out in their numbers on Friday and be that extra player for us as we appreciate their energy and help us keep going."
Meanwhile, Oalex Anderson, who scored the second goal for Vincy Heat against Nicaragua said they went into the game "with a plan to start fast and I believe we did that, hence we grabbed an early goal."
He added, "I think that we could have gone two up but it was just unfortunate that it didn't happen, we conceded (2-1), but we showed courage to keep going and eventually we equalized just before the half time. The plan in the second half was to have a clean sheet and score more goals but we did not get to score again however, we did manage to get the clean sheet so we are going into Friday's game with the same mentality to start fast, score early and keep scoring to come out victorious."
Vincy Heat will play their third match in the group against Trinidad and Tobago's " Soca Warriors" today Friday, June 10 at the Arnos Vale Sports Complex starting at 3:00 p.m, and on Monday, June 13 they will play the Soca Warriors at the Hasely Crawford Stadium from 7:00 p.m.
The SVGFF says that all matches will be streamed live on the Flowsports App and channel flow sports extra 5 (296).