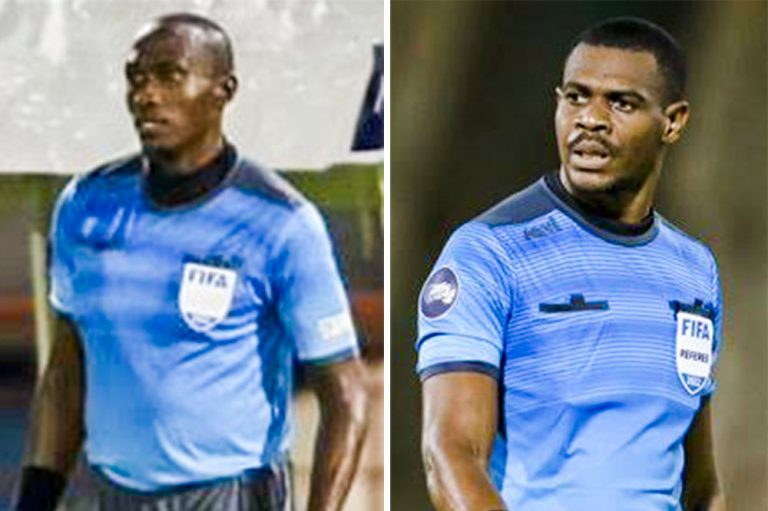 Vincentian Football match referees get big call up
When Vincentian referee, Moeth Gaymes and assistant referee, Denroy Barker both step on the field at Fort Lauderdale in Florida this Saturday, June 11 to officiate in the international friendly between Ecuador and Cape Verde, it will be their biggest assignments thus far.
For Gaymes, it has been an appointment that he was longing for.
" It is something that I always wanted, having been on the circuit for some time", Gaymes told SEARCHLIGHT last Wednesday.
Anxiously looking forward to the assignment, Gaymes added: " I am mentally and physically prepared for this match, as again, it is something that I always wanted and will be giving it my best effort".
Noting that he has also been identified for the Targetted Advanced Referee Programme (TARP), Gaymes said that everything is working in the Vincentians' interest.
" What the appointments do are to open opportunities for us to participate at the highest levels of Concacaf matches, such as the Gold Cup and the Scotiabank Champions League", he reasoned.
According to Gaymes, the call up represents an upward trajectory in his career as a FIFA International Referee since he first entered the list in 2014.
He has officiated at the Olympic Qualifiers level, and was the fourth official in the World Cup qualifying match in St Kitts and Nevis last year.
Most recently, Gaymes led an all Vincentian team of officials who carried two matches in the Concacaf Nations League.
Gaymes, Barker and Kemran Daniel were the match officials for the Antigua and Barbuda versus Barbados game played on Thursday, June 2 in St Lucia , as well as the Dominica versus Anguilla match on June 5, at Warner Park in St Kitts.
Before that, Gaymes officiated in the Caribbean Club Championships, including the third place play off between Waterhouse of Jamaica and Vega Real of the Dominican Republic last month.
Likewise, Barker got additional prep for Saturday's international friendly in the USA as he was part of the team of officials who conducted the Caribbean Club Shield in May in Puerto Rico.