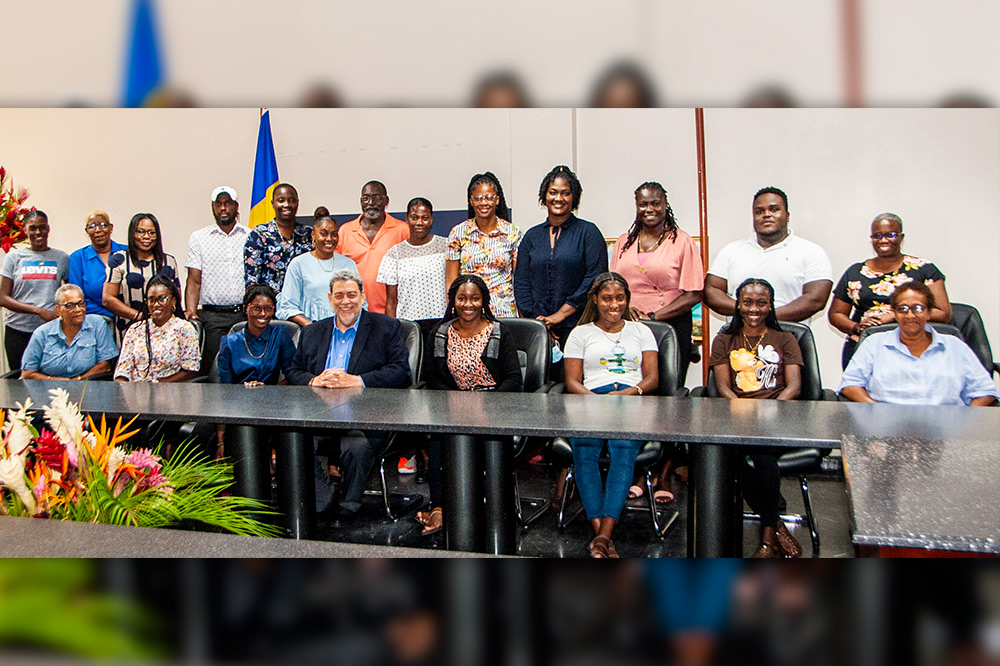 PM meets with national netball team and pledges his support
Prime Minister, Dr Ralph Gonsalves has promised to provide varying areas of support to the 2022 OECS/ECCB netball champions, St. Vincent and the Grenadines (SVG).
This promise was made when he met with the team and officials as well as officials of the SVG Netball Association earlier this month at Cabinet room where he congratulated the players and the team's management and spoke to the players about their personal development.
He encouraged them to make full use of any and all opportunities available to develop their skills and told those who are attending either the St. Vincent and the Grenadines Community College, the University of the West Indies Open Campus, have plans to attend university, or are employed that they will all receive unspecified assistance.
The 2022 OECS netball champions are focussed on the upcoming America Netball World cup qualifiers scheduled to be held in Jamaica in October, 2022.
Before that the national Under-23 netball squad will be competing in the historic first edition of the Caribbean Games to be held in Guadeloupe from June 29 to July 3, 2022. The Vincentian netballers will be part of the more than 800 Under-23 athletes from 29 countries who will compete in seven sporting disciplines.
Gonsalves was also introduced to Natasha Baptiste, the newly elected president of the SVG Netball Association, Natasha Baptiste, who succeeded Doris McIntosh.
Mc Intosh, who was ineligible for re-election having served three consecutive two-year terms is now the Association's new secretary. On behalf of the Association, she presented the prime minister with a framed photograph of the team with the trophies they won posing on the netball courts at the Windsor Park in Roseau, Dominica.
Following the meeting Gonsalves told SEARCHLIGHT that it was, "a great pleasure" meeting the OECS champions and he looks forward to the under 23 team going to Guadeloupe, "and in October for this team to play in the Caribbean netball championships in Jamaica".
He said in the wake of the onset of the COVID-19 pandemic, the eruption of La Soufriere Volcano and the effects of Hurricane Elsa last year, the team's success in Dominica lifted his spirits and that of the nation and he was "very happy with this respairing."