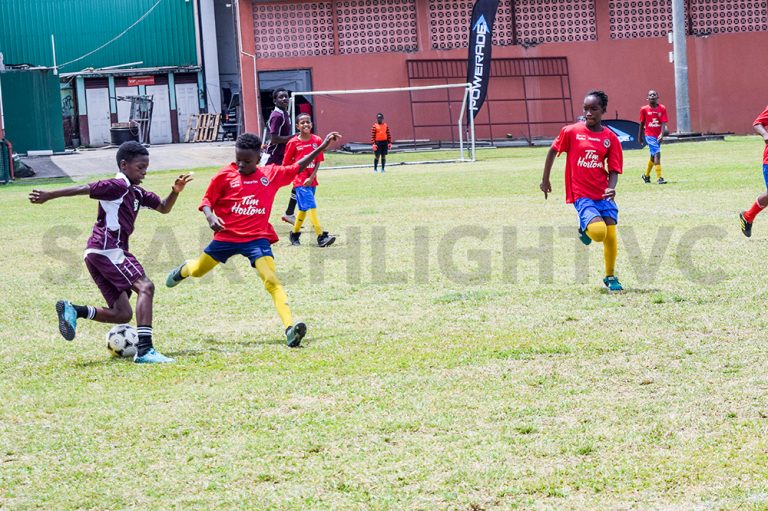 Under-13 footballers making the best of Let's Play
CLOSE TO 450 of footballers under the age of 13 years are currently involved in the St Vincent and the Grenadines Football Federation's(SVGFF) Let's Play programme.
Geared primarily to expose as many footballers within that age group as possible, the Let's Play allows for participation of both genders, with the males being the dominant sex currently involved.
Divide into four zones, the 21 participating club teams are playing the seven -a – side roundrobin format.
Each match is of 40 minutes duration, with four- ten minute quarters. While teams are able to make limitless substitutions, they can be done only at the intervals, save and except for forced injuries.
In Zone 1, played at the Campden Park Playing Field, Parkside Rollers, Camdonia- Chelsea, QUESCO Titans, North Leeward Predators and Layou are engaging each other.
Bequia United, System 3, Green Hill, Hope International, Largo Height, Sion Hill Hope International, Blossom Unlimited and Volcanoes are lodged in Zone 2. They play at the Victoria Park.
Zone 3 comprises Glenside Ball Blazers, Greiggs, Strike Force, Toni Stores Jugglers and Pride and
Joy. Zone 3's venue is the Brighton Playing Field and making up Zone 4 are Je Belle, Owia United, SV United and Sparta FC. Their base is the Chilli Playing Field.