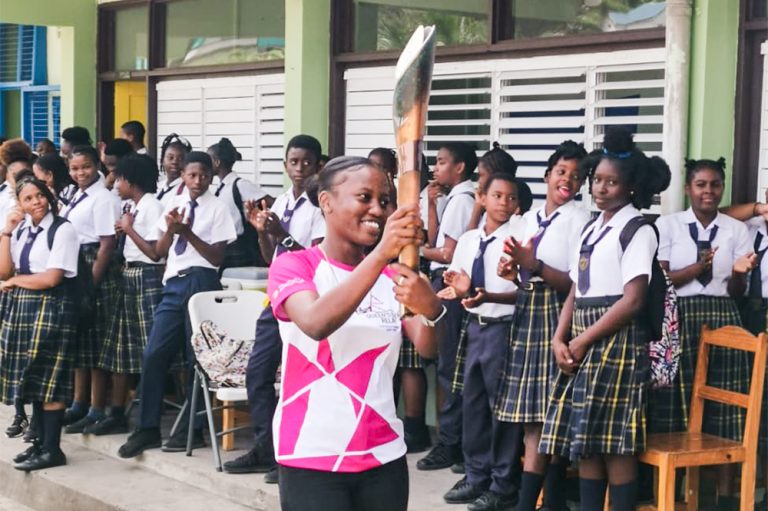 Queen's Baton Relay gets rousing reception
St Vincent and the Grenadines (SVG) gave the Queen's Baton a rousing welcome on its first of a full two- days of activities.
Yesterday, Thursday May, 19, the QBR began its journey from Richmond through the western side of the mainland, before culminating the first day of duties at Fort Charlotte.
The smiling faces of students was the characteristic reception at each stop; each student either wanting to physically touch the baton, or get a photo moment. The Baton swept through several schools.
Among them, were the Fitz Hughes Government, Chateaubelair Methodist, Petit Bordel Secondary, Troumaca Primary and Secondary Schools, West wood Methodist, Central Leeward Secondary, Layou Primary, Questelles Primary and the Buccament Secondary. A stop was also made at the Walliabou Falls.
Thereafter, stops were made at the Kingstown Anglican Church, the Kingstown Methodist Church, the Botanic Gardens and Fort Charlotte.
During its journey, there was a cultural performance done by students of the Central Leeward Secondary School and indelible photo moments.
A host of current athletes, administrators, as well as former national sporting icons have the rare opportunity to carry the Baton.
The baton heads to the Grenadine island of Mustique for another full day of activities today Friday, May 20 before leaving for Bermuda on Saturday, May 21.
St Vincent and the Grenadines was the 61st stop for the Baton among the 72 nations of the Commonwealth. It was the fifth occasion that SVG was hosting the QBR.
Before arriving here, St Lucia had its turn to host the Queen's Baton Relay.
The Birmingham 2022 Queen's Baton Relay started at Buckingham Palace on October 7, 2021 when Her Majesty, The Queen placed her message to the Commonwealth into the Baton and passed it to four-time Paralympic gold medalist and Team England athlete, Kadeena Cox, who had the honour of being the first of thousands of citizens of member states of the Commonwealth to carry the Baton.
The Queen's Baton Relay will complete its journey at the Opening Ceremony of the Birmingham 2022 Commonwealth Games on July 28, 2022.