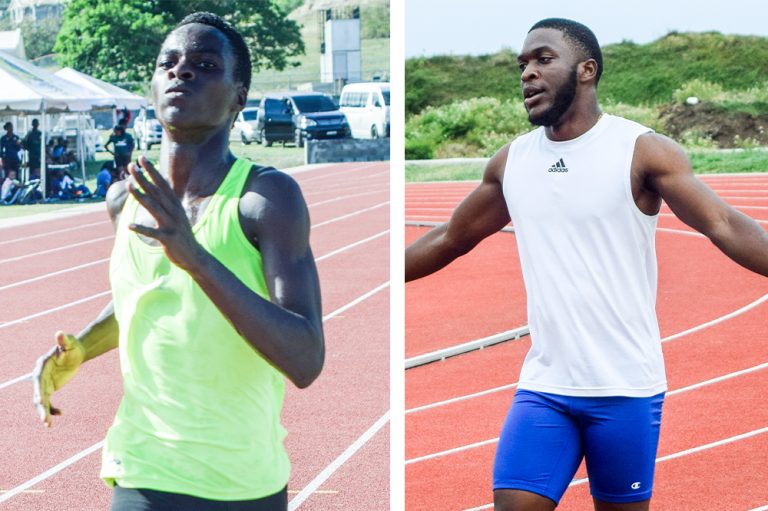 Male athletes scalp National Open Championships titles
Male athletes competing at the 2022 Wendell Hercules National Open Championships showed their current form, as they wrestled for honours last Saturday and Sunday at the Sir Vincent Beache Stadium at Diamond.
Copping the 100m was Kyle Lawrence, as he clocked 9:58s; Devonric Mac took the 200m in 21.40s, with the 400m title secured by Michael Francois of Grenada in 46.84s.
The 800 m title went to Desroy Jordan, who stopped the clock at 1:54.85; Ziel Spring's 4:18.15 clocking earned him the 1500m title and Zichri Hepburn won the 5000m in a time of 16:38.70.
There were also the 4 x100m and 4 x400m, which were both pouched by the Grenadians. They won the 4 x 100m in 42.28s, and the 4 x 400m in 3:17.24.
Off the track, there were also no double winners. Kirk Hamblett won the Javelin with a distance of 48.76m, while Andre Spencer topped the Discus as he flung 40.62m.
Winning the Shot Putt was Jimmauh Compton, with a 12.57m distance . In the jumps, Kodi Grant took the Long Jump with a leap of 6.52m, Cadique Stephens- the Triple Jump in 13.37m and Calroy Hadaway won the High Jump, clearing the bar at 1.95m