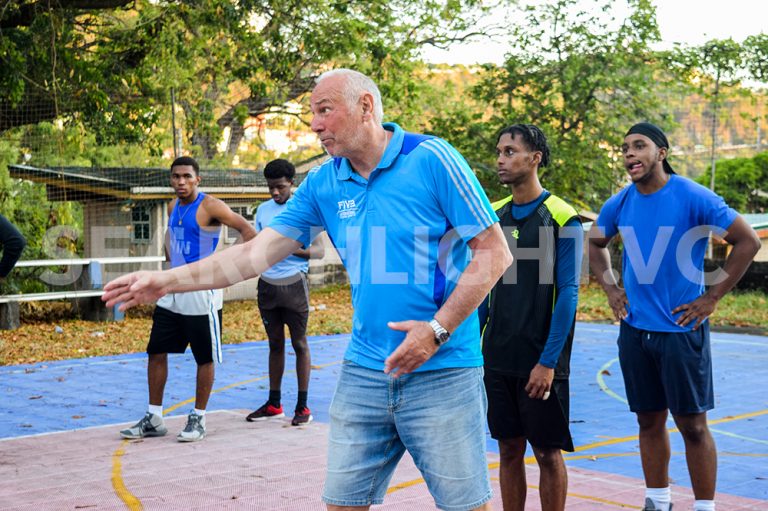 SVGVA welcomes new coach
For the next three months, the St Vincent and the Grenadines Volleyball Association (SVGVA) will maximise on the experience and expertise of Romanian- born FIVB Coach, Dan Girlenau.
While here, Girlenau will be working with the senior men's and women's teams, as well as selected secondary schools.
President of the SVGVA, Eardley Martin has welcomed the services of Girlenau.
Outlining Girlenau's schedule Martin disclosed that, "The males are training twice per week, Thursdays and Saturdays, while the females are training also twice per week, Mondays and Wednesdays… During the month of June, the males will add Tuesday to their schedule".
As it pertains to the schools' programme, Martin said: " On Mondays, the coaches attached to the Grassroots programme along with Girlenau will go to Georgetown Secondary School and alternate with the George Stephens Senior Secondary.".
Martin added that Girlenau will conduct sessions at the St Joseph's Convent, Kingstown on Tuesdays, West St George on Wednesdays, the Girls' High School on Thursdays and the Thomas Secondary School on Fridays.
Martin said the Girlenau will assess the uptake of skills among the schools through a competition.
" The coach has indicated that at the end of the sessions with the schools he would like to have a mini- exhibition to give a feel of what competition is like." Martin related.
This is Girlenau's second stint in SVG; he was here on a similar coaching exercise in 2008.
Martin underscored that while in SVG Grenadines Girlenau will be working closely with the national coaches as well as the Grassroots coaches, as they too can benefit from his knowledge.
Girlenau, who has worked in other countries within the Eastern Caribbean Volleyball Association's grouping will end his stint in SVG in July.