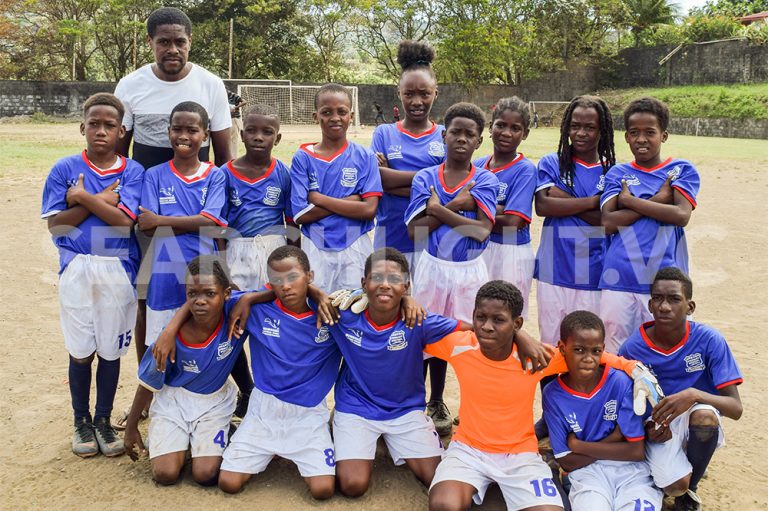 Greiggs rule in Marriaqua Primary Schools' Football Competition
THE GREIGGS Primary School earned the title of champions of the first ever Memorial Funeral Home Marriaqua Football Association Primary Schools' Football Competition.
When the competition ended on Wednesday April 13, at the Cane End Playing Field, Greiggs Primary stood tall as the lone team not to suffer a defeat.
Formalisation of the title came on the last day, when Greiggs secured a 2-1 win over their nearest rival, Marriaqua Government. A goal each from Kimon Pope and Daveson Williams gave Greiggs their tally, while an own goal conceded by Greiggs accounted for Marriaqua Government's reply.
Greiggs Primary ended on 19 points, five more than second place – Marriaqua Government. Taking the third spot was the Richland Park Seventh Day Adventist- 13 points.
Richland Park SDA, edged out fourth place, Cane End Government who also had 13 points, and had the same goal differential, but the SDA team scored more goals.
The competing schools in descending order of final placings were Belmont Primary, Richland Park Government, Argyle Primary and Evesham Methodist.
At the presentation ceremony which followed, Daveson Williams was adjudged the MVP of the competition, while his team mates, Kevorn Phillips got the nod as the best goal keeper; Kesson Durrant, the best defender and Delano Jones best strikers. The top goal scorer was John-D Prescott of the Richland Park SDA School who scored 12 goals. There were two individual awards presented to females. The awardees were Akilah Sutherland of the Marriaqua Government School who was the lone female to score a goal, while the lone female captain was Juliana Williams of the Argyle Primary School.
Organisers also rewarded the MVP of each of the eight competing schools.