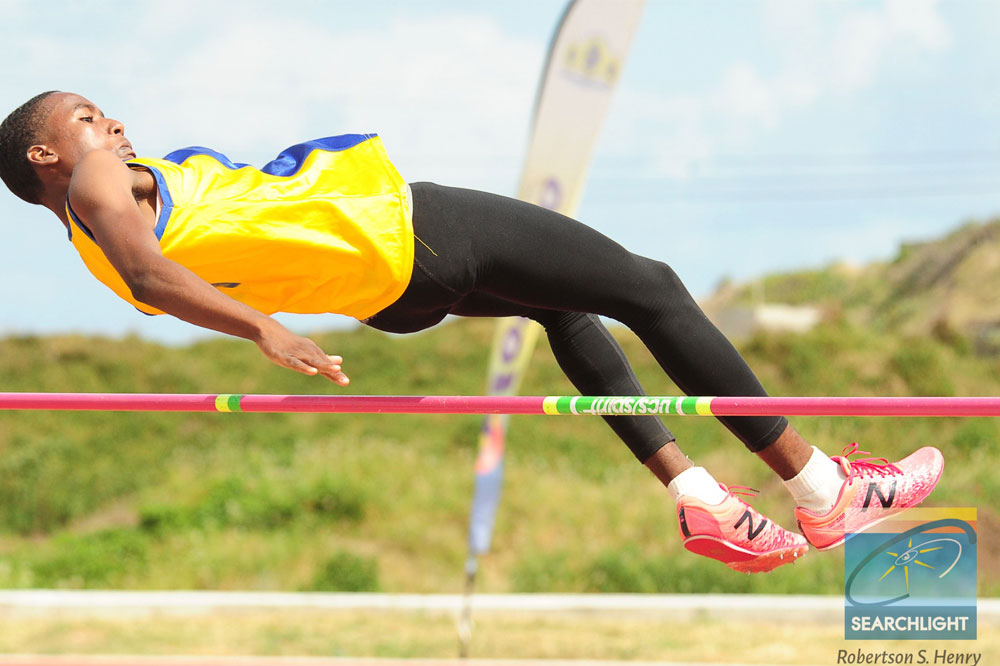 Forty-year-old high jump record broken at Inter-Secondary School Sports
When Ajay Delpesche of the Petit Bordel Secondary School was entered for the high jump event of the National Lotteries Authority Inter- Secondary Schools' Athletics Championships, little did he envisage a spotlight for him. This, as he is not a high jumper per se.
One who loves cricket and football, Delpesche broke the long- standing Intermediate Division's high jump record last Friday at the Sir Vincent Beache track facility at Diamond.
Delpesche's 1.88 m jump erased the 40-year old record of Rohan Saunders-Phillips of the St Martin's Secondary. Saunders- Phillips' mark of 1.87m was achieved in 1987 at the Arnos Vale Playing Field.
Somewhat nonchalant about his achievement, Delpesche told SEARCHLIGHT minutes after his accomplishment: "I am not really a high jumper, but ah just try a thing and I got through".
Despite his feat, Delpesche is not sure if he will continue in the event, as high jump is not his first love.
A multi- talented sportsman, Delpesche also plays cricket for the Jules Anthony Cricket Club, football for System Three and Rugby for the Leeward Invaders.
Delpesche however shifts focus from the high jump limelight, as he will represent St Vincent and the Grenadines this weekend in Jamaica at the Junior Carifta Games.
His representation at the Carifta Games, sums up a tale of events. Delpesche missed the Carifta trials on March 12.
However, Team Athletics SVG needed an additional athlete to complete the Under -17 Male 4 x 400m relay team, and Delpesche won the runoff which took place on March 19.