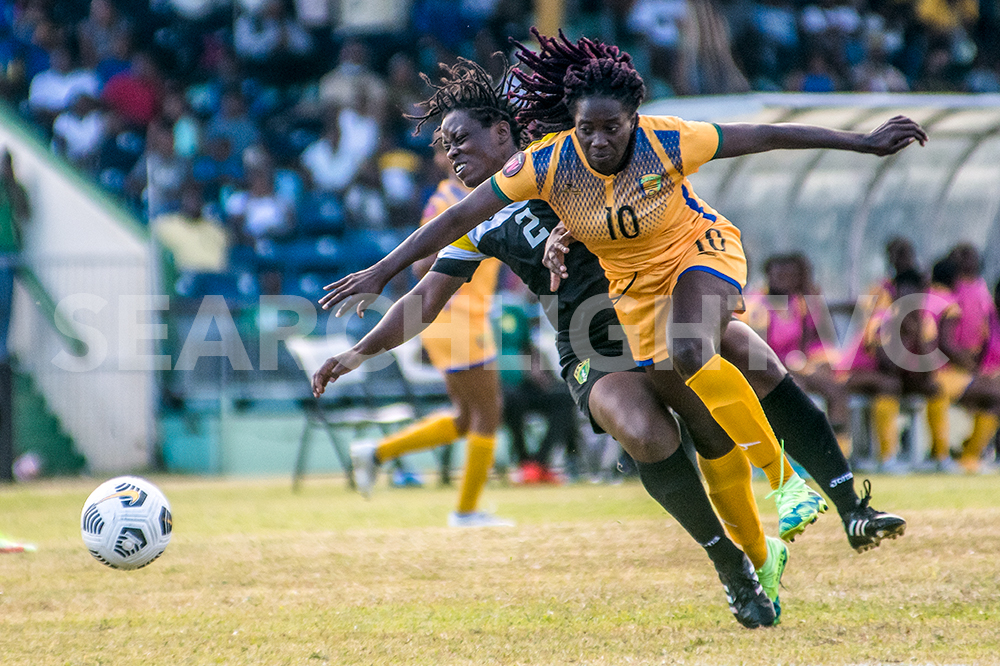 Lady Heat scorch BVI in World Cup qualifier
ST VINCENT AND the Grenadines' (SVG) senior women's football team, Lady Heat ensured that the return of international football to the country was a celebratory one when they defeated the British Virgin Islands (BVI), 5-1 last Wednesday at the Arnos Vale Playing Field.
The Group E fixture of the Concacaf zone World Cup qualifiers saw the Vincentians earning their first three points, following their 3-0 and 11-0 defeats by Cuba and Haiti, respectively in February, But the mood was totally different from their outing in Cuba in front an appreciative home crowd when the Vincentians gave supporters early excitement.
Goalkeeper turn defender, Annesta Richards opened the home team's account in the 7th minute with a low shot from outside the 18 yards area that got past the BVI custodian, Britney Peters .
Areka Hooper added SVG's second in the 14th minute after the visitors' defence failed to clear a loose ball in the six yards box.
Then in the 33rd minute, Kristiane Wyllie made good of a fumble by Peters to slot home from close range, to make it 3 for SVG; BVI nil.
The British Virgin Islands were to get a goal, though not of their own when SVG's Kitanna Richards turned the ball into her own net in the 61st minute making it 3:1.
But a rasping right foot shot by Dionte Delpeche from about 25 yards in the 66th minute gave Lady Heat their fourth goal.
And, in the 94th minute, Kitanna Richards made amends for her blunder by roofing the ball to end the match at 5-1.
For sisters, Annesta and Kittana Richards it was an experience they both cherish as the two were on the score sheet.
Annesta, who is attending college in the USA, noted, " It was not only good to score, but doing so with my sister makes it feel even better".
Still adjusting to her new position, Annesta informed SEARCHLIGHT that the transition is not seamless.
" It is a bit challenging to transition from goal keeping to defending because of the positioning, because I am still getting used to the movements as a defender", Annesta pointed out.
Meanwhile, Kittana was relieved, following her second half mishap.
"I was very excited for scoring back a goal for my team because I gave away one… I was equally excited because it is my first goal for St Vincent and the Grenadines", Kitanna commented.
However, no one was more elated than head coach, Cornelius Huggins who lauded his team for an improved performance.
Huggins told SEARCHLIGHT: "I just want to congratulate my team on a win… This win is a team effort…Sometimes you don't play pretty but the most important thing is that W( win)".
Reflecting on the previous matches, Huggins referred to the team's performance then as " horrible", but through planning, his charges were able to give a better showing.
" After the matches in Cuba, we came back home, the technical staff, everyone came together and worked harder with the players and today you saw a better performance", Huggins related.
St Vincent and the Grenadines will travel on Sunday to Honduras where they will play the Central Americans next Tuesday.