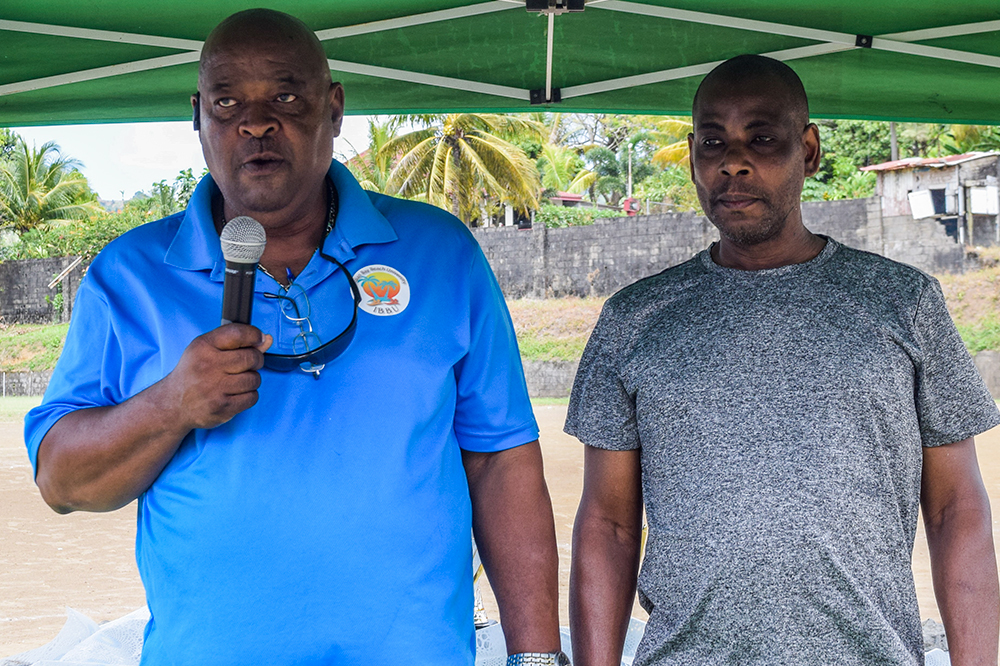 Funeral Home breathing life into Marriaqua football
THE MEMORIAL Funeral Home is helping to breathe more life into football in the Marriaqua Valley.
And proprietor, Stephen Da Silva promised to do more as he spoke at the opening ceremony of the Marriaqua Football Association's (MFA) Primary Schools Football Competition last Monday at the Cane End Playing Field.
The funeral home's sponsorship has provided uniforms for most of the eight competing schools, as well as other equipment.
According to Da Silva sponsorship for the competition also included fitty balls, shin guards, cones, bibs, and goal keeping gloves among other items. In addition, trophies for the competition have been procured by the sponsors.
However, Da Silva is cognisant that more gear will be needed for any sustained football programme to take place in Marriaqua.
"Going forward, we know that they will be in need of other gear and I can count on Ashley( Samuel) to assist me in sponsoring others", Da Silva promised.
Samuel, who is Da Silva's business partner flew in from the USA to be part of last Monday's opening.
Da Silva though envisaged the formation of an academy type set up for youth football in the valley.
Meanwhile, Minister of Sports, Frederick Stephenson lauded the Marriaqua Football Association for its bold decision to host the competition.
And, he sees the football tournament as a means of keeping the students active during the Easter vacation.
" This is an important activity now that school is on break to get you away from your tablets and your cell phones, to get you actively involved in some aspects of sports and I want to commend the organisers for this", Stephenson stated.
Parliamentary Representative for the Marriaqua Constituency, St Clair Prince extolling the virtues of sports declared, "Playing sports is an important ingredient in their (students') upbringing". And he called on others to emulate the efforts of the MFA.
Apart from Da Silva, Stephenson and Prince, president of the MFA, Yosiah Dascent and president of the St Vincent and the Grenadines Football Federation, Carl Dickson addressed the opening.
The eight schools engaged in the competition are: Argyle Primary, Belmont Primary, Cane End Government, Evesham Methodist, Greiggs Primary, Marriaqua Government, Richland Park Government and Richland Park Seventh Day Adventist Primary.
The competition ends on Wednesday, April 13.