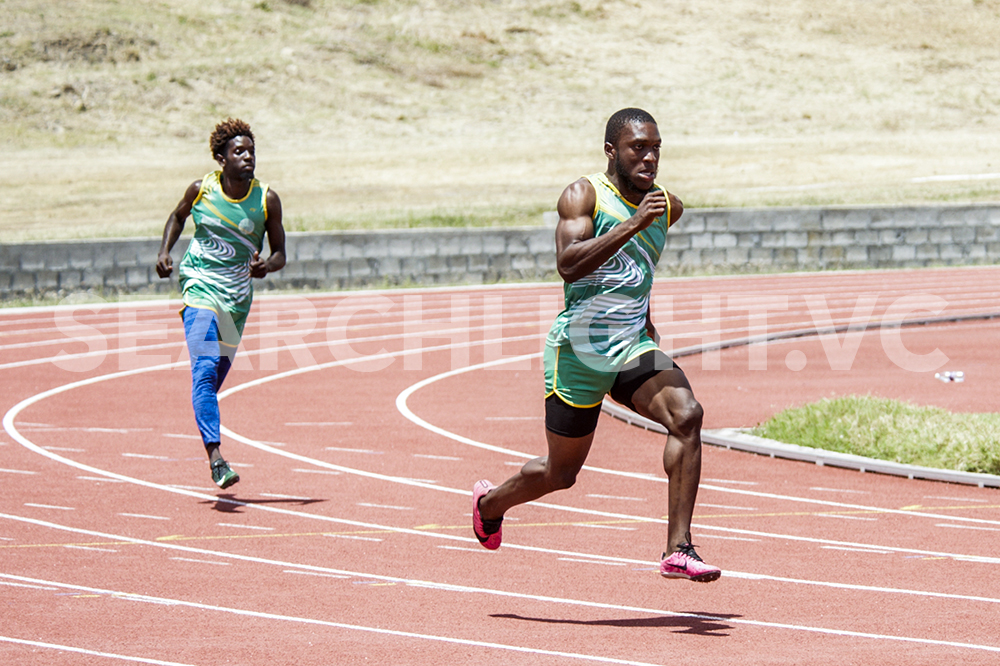 Eight new records set at 2022 SVGCC athletics meet
EIGHT RECORDS WERE smashed last Friday April 1, 2022 when the St. Vincent and the Grenadines Community College (SVGCC) held its annual Athletics Championships at the Sir Vincent Beache National Stadium after a two-year absence due to the covid pandemic.
When all was done and dusted, the Division of Arts Sciences and General Studies Year One, emerged the new athletics champions having amassed a total of 242 points in the process. The dethroned champions, Division of Arts, Sciences and General Studies (DASGS) Year Two, had to settle for second place on 204 points while the Division of Technical and Vocational Education (DTVE) placed third with 171 points.
The Division of Arts, Sciences and General Studies Year Two topped the Female Division with 94 points, followed by the Division of Nursing with 86 points, while DTVE took the third place berth with 84 points.
The top spot in the Male Divisional category went to DASGS Year One with 175 points; DASGS Year Two were a distant second on 109 points, with DTVE third on 87 points.
On the track, Grenisha Thomas was a class above the rest as she displayed speed and power to win the top female athlete award with a total of 30 points.
En-route to capturing the top award, Thomas broke the 200-metre record that previously stood at 25.33 second, in a time of 24.92 seconds, the 400-metre female record from its previous mark of 59.49 seconds to a new mark of 58.02 seconds, and she also equalled the 100-metre female time of 12.12 seconds.
Teia Laborde was second in the Female Division with 26 point and also broke the 60m Female record with a dash of 7.73 seconds, while Destra Browne placed third with 20 points.
In the male division, Kyle Lawrence was undoubtedly the top male athlete with a total of 30 points. He wrote his name in the record books setting two new male records.
He broke the 100-metre record with a new mark of 10.71 seconds, and wiped away the 7.15 seconds in the male 60 metres with a time of 6.73 seconds. Lawrence also won the male 200 metres in a wind-assisted 21.31 seconds time.
Andros Dennie was second in the Male Division with 24 points, while Darren Morgan-Jeffers who set a new male 400-metre record of 49.81 seconds took the third spot with 22 points.
The other two records that went by the wayside last Friday were the male high jump record which now stands at 1.92 metres set by Jamaar Cropper. Also reset was the Male 4X100-m relay record, with a new time of 43.83 seconds set by DASGS Year Two.