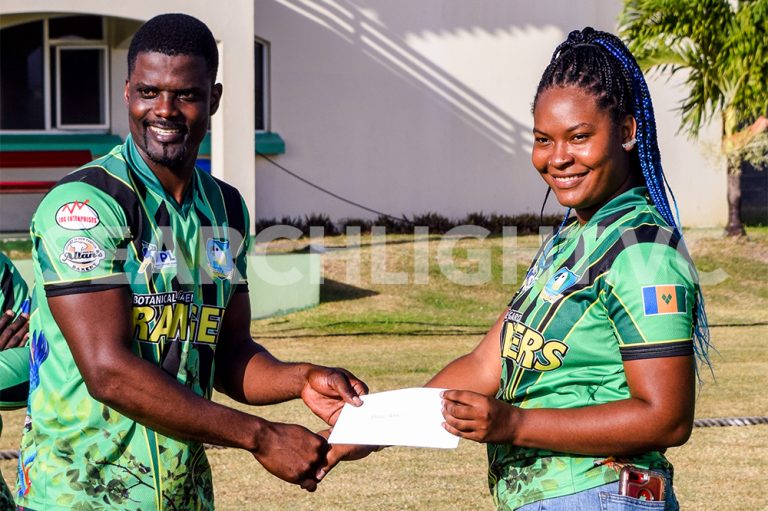 Kidney patient's plight touches cricketers
The social and humanitarian consciences of members of the Botanical Rangers cricket unit were touched when they learned of the plight of an ailing Owia woman.
Action then followed as the players and members of the backroom staff chipped in to assist Deargie Adams, who is suffering from kidney failure.
That assistance came in the form of a monetary donation to Adams, who has to undergo regular treatment at the Modern Medical and Diagnostic Centre at Georgetown.
A brief ceremony took place last Sunday afternoon at the Arnos Vale Playing Field and members were on hand to hand over the donation to Kimura Adams, the daughter of the beneficiary.
One of the main contributors to the cause, Andre Fletcher, who donated all of his earnings gained from the Vincy Premier League (VPL), said he could not let the occasion to help pass him by.
The Grenadian explained to SEARCHLIGHT: " I decided to [donate]the entire tournament fee because I know that it takes a lot to do therapy twice per week".
Fletcher said that apart from donating the money, he is about praying and trusting that God that she will pull her through.
He said it was also an occasion for Adams to look to God and make her part right with him.
Adams' condition was drawn to the attention of the Rangers players through her daughter, Kimura who explained that " It was Salvan Browne, a member of Rangers who pushed me to look for help as the bills at the hospital were becoming too much for the family… I am thankful to the players on behalf of my mother for the help".
Kimura is hopeful that the Rangers' players' initiative, will spur others to also offer assistance.
The Botanical Gardens Rangers is one of the six teams competing for honours in the fourth edition of the VPL, which ends this Sunday at the Arnos Vale Playing Field.