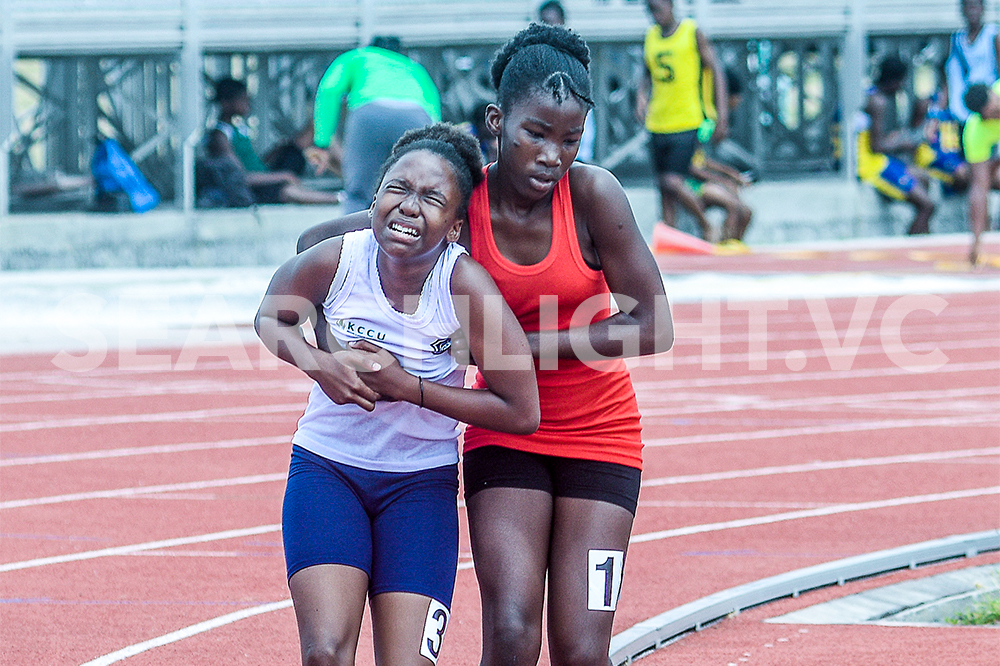 'Good Samaritan' athlete steals the show
It was all rivalry last Wednesday, March 30 at the Vincent Beache Stadium at Diamond as female athletes battled for places in the finals of the Inter- Secondary Schools Athletics Championships, set for April 8.
However, the heat of competition did not deter Calesha Baynes of the North Union Secondary School from performing an act of selflessness and kindness, though it came at the expense of her own fortunes.
Competing in heat two of the Junior Girls 1000m, Baynes recognised that the Girls High School's athlete, Mahaili Gill began experiencing difficulties and she pitched in to help a fellow athlete.
Speaking to SEARCHLIGHT yesterday, Baynes said her actions were all instinctive.
" My mind just told me to do it and I just do it", Baynes related.
Recounting the event Baynes said that she was probably in third position when she realised that Gill was in difficulty and went to her aid.
" I saw her and thought she was having the same chest pain like me, but was her side that was choking her… I suffer from chest pain sometimes when I (am) running", Baynes disclosed.
Noting that her actions to help Gill would have sacrificed her qualification for the finals, Baynes however said that was not the first thought that came to mind.
" I was in a good position in the race but dropped back  when I went to help the girl", Baynes admitted.
Baynes who was in the main pack when she stopped to assist Gill, finished down the field.
Quizzed if she would do it again should the occasion arise, Baynes responded with an emphatic "yes".
At the completion of the heat, Baynes received applause from fellow athletes, officials and others who witnessed the trail of events.