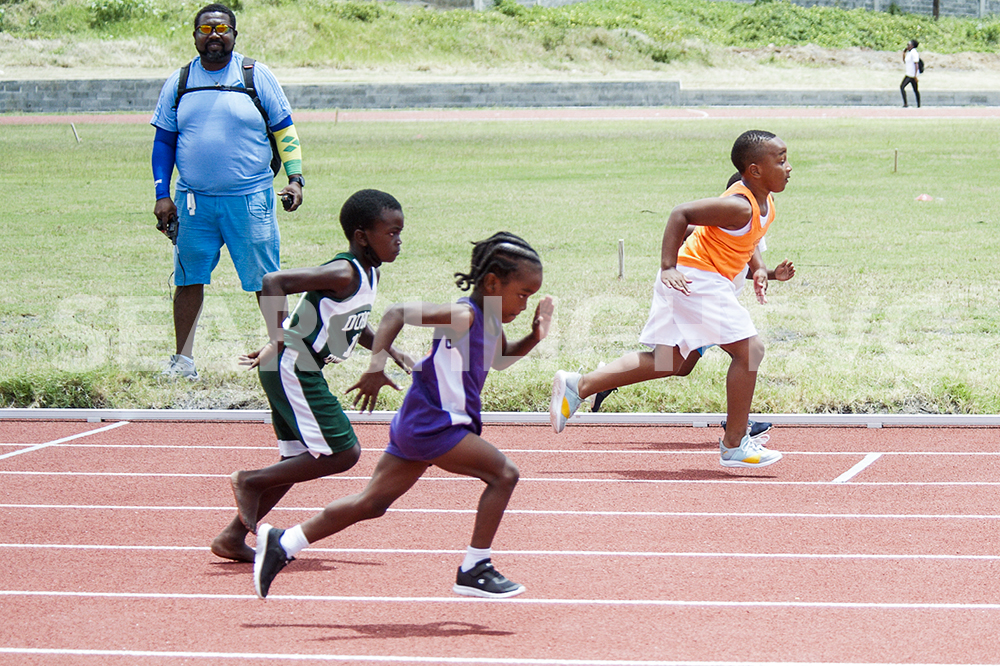 Schools athletics championships resume after two year break
TWENTY-NINE primary schools were involved in the heats of the 2022 Inter-Primary Schools Athletics Meet held last Thursday and Friday, March 24 and 25, 2022 at the Sir Vincent Beache Stadium at Diamond.
The heats saw participation from 15 primary schools on Thursday, March 24 and the remaining 14 were in action on Friday, March 25 where about 48 event were contested on both days involving 362 athletes.
And at the same venue on March 30 and 31, the heats for the Inter-Secondary Schools Championships will take place, while the finals of the Inter-Primary Schools and Inter-Secondary Schools Championships will be held on April 7 and April 8 respectively, also at the stadium at Diamond.
Head of Competition within the Division of Physical Education and Sports, Simone Richardson said, "Some schools are really ready" for the 2022 meet which had been placed on pause for the past two years due to the COVID-19 pandemic and the eruptions of La Soufriere volcano. She told SEARCHLIGHT, "Right now I cannot say how many secondary schools will take part, but we are seeing a gradual rise in the number of registered schools".
Richardson pointed out that despite the disruption several schools were still conducting programmes in small ways.
From the level of the Sports Department some communities sports were also held including during the period when segments of the population were in shelters.
"So even though there were no formal settings, the training never stopped," she noted.
Richardson said they expect "this year is going to be extremely competitive. We have seen a number of Carifta finalists coming out of the meets that Team Athletics held, and a lot of these children are in school so the competition among the secondary schools is going to be extremely, extremely high this year."
The theme for the 2022 Inter- Primary and Inter-Secondary School Athletics Meets is: 'We are Back', and according to Richardson, "we are seeing that the children are back."