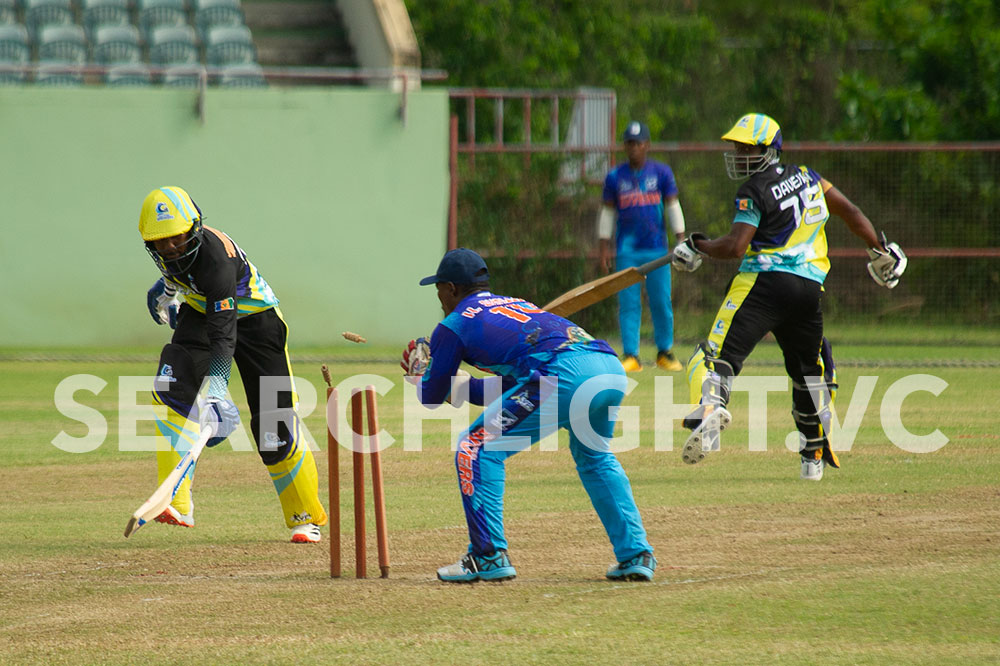 A beaver trick, a hat trick marked the weekend VPL
If the preceding matches were anything to go by then last weekend left many wondering what next should spectators expect. On Saturday afternoon, March 26 in the day's second game table toppers, Salt Pond Breakers created VPL history by losing their last four wickets via the run-out route off the final four balls of their innings, and then on Sunday, Dillon Douglas took the first hat-trick of the 2022 VPL.
However that did not stop Breakers from winning the match, restricting Grenadines Divers to 57 for 8 in 10 overs.  Grenadines Divers having won the toss and choosing to bowl had a dream start as Asif Hooper had Kadir Nedd stumped for a duck. Breakers however did not let that deter them as Rickford Walker and Kadeem Alleyne first slog- swept, then uppercut square on the offside for maximums.
There was no letup to the savagery, and at the end of the powerplay, Breakers were 55 for 1. Soon after it slowed to a near crawl as the Divers' bowlers led by Geron Wyllie and Wesrick Strough, crippled the Breakers batting effort as the two combined for 25 runs and 4 wickets in four overs. Then came the beaver-trick of four consecutive run outs, as the Breakers innings ended on 103 all out, a far cry from what looked like the first 150-plus score of the 2022 edition.
Kadeem Alleyne top-scored with 33, Rickford Walker 22, and Ricavo Williams 16. Bowling for Divers, Geron Willie 2 for 11, and Wesrick Strough 2 for 12 as Salt Pond Breakers moved from 103 for 6 in 9.2 overs, to 103 all out in 10 overs.
Divers did not fare any better when their turn came with the bat and wickets fell regularly as the Divers inning descended into disarray; at the end of the powerplay they were 21 for 4.
Breakers never loosed the chokehold on the innings and Divers managed only 57 for 8 after their allotted 10 overs. Shem Browne 17, Denson Hoyte 13, were the only batsmen to reach double figures, with Jomel Warrican taking 2 for 2, Kadeem 2 for 7; the other four bowlers used had a wicket each.
In Saturday preceding match, Dark View Explorers handed Fort Charlotte another defeat, winning by eight wickets.
Strikers won the toss and chose to bat but were soon in problems when Darius Martin removed Miles Bascombe and Ozico Williams in the first over. Deron Greaves comprehensively bowled Crystian Thurton and Christroy John, leaving Strikers reeling at 10 for 4 at the end of the powerplay.
Strikers laboured to 67 for 5 at the end of their 10 overs, with Sealroy Williams 22, Richie Richards 17, and Joshua James 10. Bowling for Explorers Deron Greaves took 2 for 7, and Darius Martin 2 for 18, In replay Dark View Explorers reached 68 for 2 in 8 overs; Lindon James top-scoring with 26, and Shaman Hooper 22, while Richie Richards took 2 for 14 bowling for Fort Charlotte Strikers.
The yet to be beaten Salt Pond Breakers won the toss and chose to bowl in the first game on Sunday, March 27 against La Soufriere Hikers. From the get-go it was apparent that Hikers were prepared to take the fight to their opponents.
Kavem Hodge pulled Delorn Johnson for 4 off the second delivery of the innings, but a skied top edge off the final delivery of Johnson's over evaded the wicket keeper.
Atticus Browne, bowling his off spin, sharing the new ball with Johnson had Gidron Pope caught on the mid wicket boundary and when speedster Ryan John came on, he was treated with disdain by Dillon Douglas. He pulled two short deliveries for four then hammered a slower ball for a maximum over mid wicket. John went around the wicket to change the angle, but bowled a short ball which was pulled with disdain for six – the over conceding 20 runs. At the end of the powerplay Hikers were 53 for 2; the other wicket to fall was that of Kaveem Hodge, stumped off Jomel Warrican.
Douglas brought up his 50 off 24 deliveries during the eighth over and top-scored with 56 not out. Kaveem Hodge hit 25, and Rayan Williams 15 not out as Hikers reached 124 for 5. Bowling for Breakers, Kadeem Alleyne took 2 for 18, while Atticus Browne and Jomel Warrican finished with identical figures of 1 for 16.
Salt Pond Breakers got off to a horrible start losing their first two wickets in the first over without a run on the board. Kadir Nedd and Ricavo Williams were both dismissed by Kavem Hodge, and then Breakers were in deeper trouble when Hodge had Beniton Stapleton caught at long off to leave Breakers at 10 for 3.
Ryan John tried his best to keep Breakers in the hunt, scoring 41 from 18 deliveries hitting 1 four and 3 sixes. Then came the first hat-trick of the 2022 VPL. Dillon Douglas bowled Ryan John, and then comprehensively bowled Breakers captain, Delorn Johnson in the next delivery. He completed the hat-trick when he had Daveian Barnum caught by Othneil Lewis who made good the catch which was deflected to him by Douglas. All three hat-trick wickets fell with the score on 71.
Breakers never recovered and were all out for 99 in 9.2 overs as Hodge took 3 for 13. Douglas took 2 for 30, and Jeremy Layne 2 for 16 as Breakers were handed their first loss of the 2022 VPL, falling 25 runs short of their target The crazy weekend of cricket was completed with a seven-wicket win by Botanical Gardens Rangers over Grenadines Divers. Divers won the toss and decided to take first knock, reaching 81 for 3 in their 10 overs. Roland Cato top-scored with 36, skipper Asif Hooper 20, and Shem Browne 10. Bowling for Rangers, Kenneth Dember bagged 1 for 7, and skipper Kesrtick Williams had 1 for 18.
In reply, Rangers scored 82 for 3 in 7.4 overs, led by Keron Cottoy 21 not out, and 18 apiece for Salvan Browne and Andre Fletcher. Imran Joseph took 1 for 12, Geron Wyllie 1 for 13, and Denson Hoyte had 1 for 14 as Botanical Rangers won by seven wickets.
Salt Pond Breakers currently top the points table with 10 points from five wins of six matches played. La Soufriere Hikers are eight points from four wins of six matches played but with a better net run rate of 1.966 over the third placed Botanical Gardens Rangers also on eight points from four wins of six matches played, but with a net run rate of 0.816.