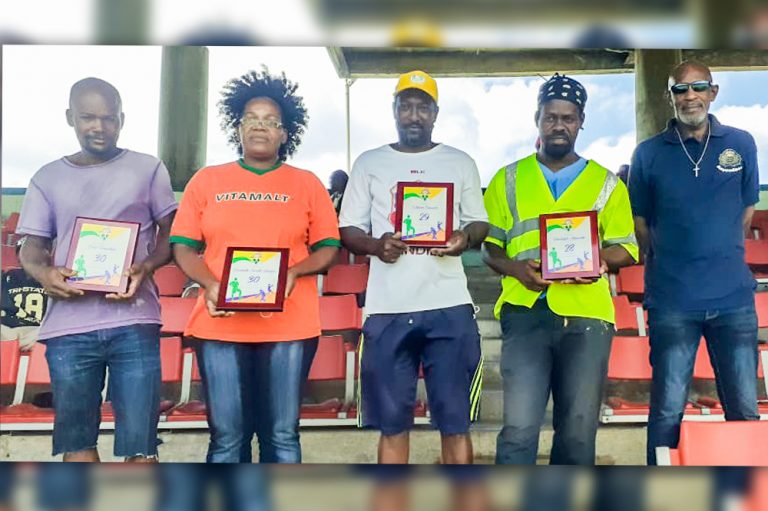 NSC recognises long-standing employees
Four long standing employees of the National Sports Council (NSC), with a combined 117 years of service to the organisation, have been recognised.
The four are Errol Hannibal, Elizabeth Caruth- Glasgow , Quammie Alexander and William " Bill" Edwards, who on Friday March 18 received their respective plaques in recognition of their service.
Hannibal, who has notched up 30 years as an employee of the NSC, told SEARCHLIGHT: " It has been good over the years…there has been ups and downs".
Having started as a groundsman under the late Lloyd Lewis in 1987, before joining the NSC staff in 1992, Hannibal credits his growth in knowledge to Lewis, also the late Terry Arthur.
Hannibal revealed that his tenure at as an employee with the NSC has been filled with satisfaction, having forged many friendships.
Caruth – Glasgow did not anticipate the gesture by the NSC but was pleased.
"I welcome the recognition, it came as a big surprise to me as we were summoned to a meeting, never to know it was to recognize us for our years of service", Caruth – Glasgow told SEARCHLIGHT.
Reflecting on her three decades of service to the Council, Caruth- Glasgow related: "There have been the glory days;
like any other thing, there have been ups and downs but I think I have been better off working with the Council for these years".
Caruth- Glasgow, who is a former national netballer , basketballer and footballer, thinks she was well placed to be employed by the NSC, as her background in sports have helped in the execution of her duties.
One who has served in the administrative department during her years with the NSC Caruth – Matthews expressed appreciation of the Council's efforts of recognising its employees but will like it to be done earlier as an incentive.
" Instead of waiting until twenty and thirty years, the Council can begin to do those who have done ten years and onwards… This will give others something to look forward to".
William " Bill" Edwards has 29 years under his belt with the NSC and has paid tribute to the late Lloyd Lewis.
" Manager( Lloyd Lewis) was the one who started me off, and always told us to take pride in whatever we do and that has helped me over the years."
" He always advised me to take up umpiring which I never did as he told me should I not make it in cricket, I can make it in umpiring".
Edwards is a former St Vincent and the Grenadines and Windwards Under-19 opening batter as well as a former SVG senior team opening batter.
Having risen to the post of head groundsman, Edwards has some words of advice for others who are also in the business of ground preparation.
" My message to the other groundsmen is for you to first love what you do and secondly strive always to do better and be open to learn new things", Edwards advised.
Quammie Alexander said: " It is a great feeling to do 28 years … it is a good thing". Alexander noted that it is "motivation" which has kept him to his task as an employee of the NSC over these years.
Alexander heaped praise on Terry Arthur (deceased) and Leevan Victory, for showing him the ropes in his early years as a groundsman.
" I have toughed it out and stuck to the plan, even though things have not always gone the way I want(ed) them to be", Alexander indicated.