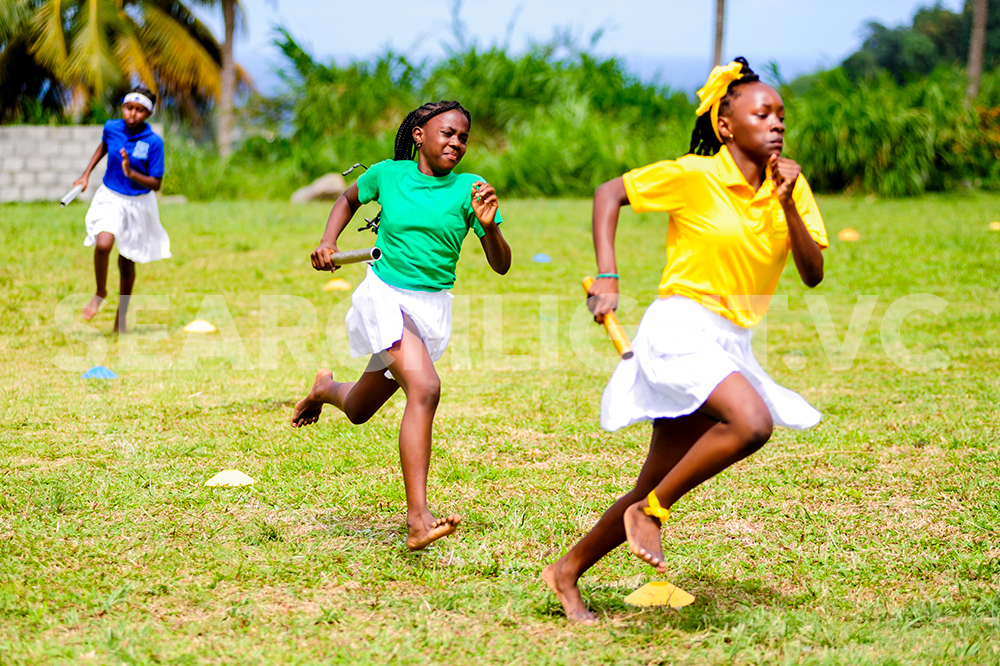 Fanny House is Greiggs Primary 2022 House champion
They came; they ran; some lost; some won. A few cried while others were joyful at their victories. This was the scene when the Greiggs Primary School held its 2022 Athletics Championships at the Antoine Playing Field on Wednesday, March 23, 2022.
Three Houses competed for top honours namely, Nanny Daniel (blue), Loven John (green), and Fanny (yellow). Rain delayed the start, but once the action got underway it was competitive. From the Under-9 girls and boys 50-metre shuttle relays, to the Over-11 girls and boys events, no race was won easily.
Dominic Johnson of Nanny Daniel House won the Over-11 Boys' 800 metres, while the Over-11 Girls' 600 metres title was won by Renica Maloney of Fanny House. The Over-11 Girls 300 metres was won by Lylanie Bascombe of Fanny House, while the Boys Over-11 300 metres was won by Keson Durrant of Fanny House.
At the lunch break, Nanny Daniel House was on 416 points, Loven John House was on 385 points, and Fanny House on 496 points. With the remaining relays being competed, the tension was tight as teachers, students, and parents kept screaming at the top of the voices urging their favourites on.
When the final baton was passed, Loven John House finished third with a total of 463 points, Nanny Daniel House second on 482 points,  and Fanny House, the 2022 Greiggs Primary School Athletics champions with 562 points.
Magaret Lewis-Jackon, principal of the Greiggs Primary School,was quite pleased with the day's activities and the assistance provided by the staff of the Department of Sports. According to the school's principal the manner in which the day's events were managed by the staff of the Department of Sports made the work of the school's staff much easier, and the meet was finished on time.
She told SEARCHLIGHT that it was quite pleasing to see the performances and participation by the students, and the parents attending and giving their support was very encouraging.
Attention has now shifted to the Inter-Primary School Athletics Championships, the heats of which are on at the Sir Vincent Beache Stadium at Diamond starting yesterday Thursday, March 24 and culminating today Friday, March 25, 2022.
The Inter-Primary Schools finals will take place on April 7, followed by the Inter-Secondary Schools Athletics finals on April 8.