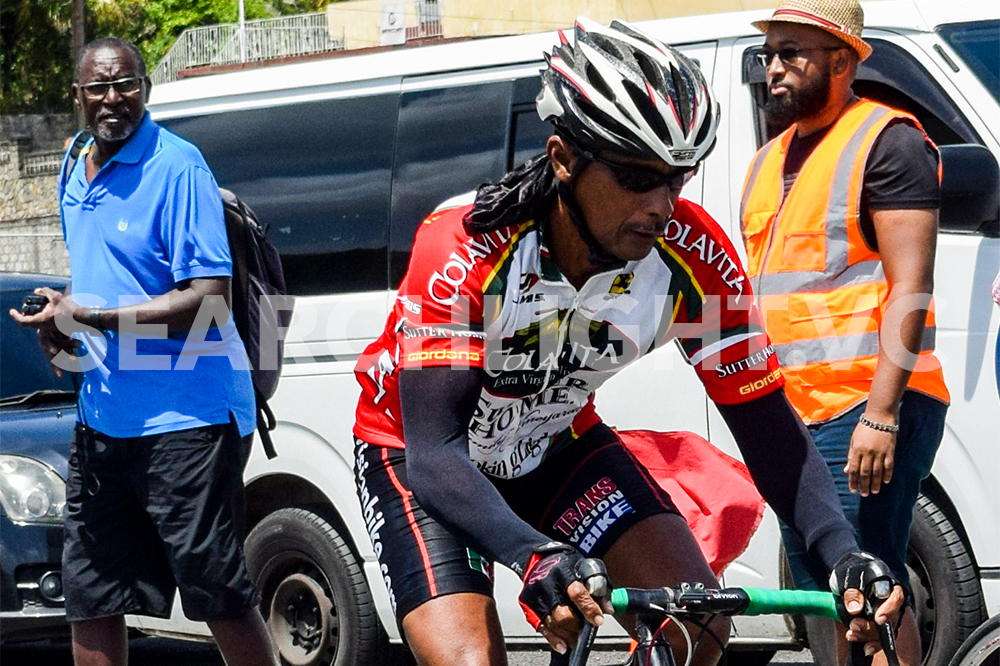 Peter Durrant regains lost ground
PETER DURRANT SURGED back to the top of the Masters Category when he won all three stages of the SVG Cycling Union events which took place last Saturday, Sunday and Monday.
Durrant in last month's races had to ride in the shadow of Steve Ollivierre.
But Durrant took advantage of Ollivierre's absence easily taking the first stage in 2:35.43.09. He repeated stage two in 2:31 09.44 and stage three with little effort in 2:07.16.55, to aggregate 7:13.69.08.
Martin Bollers was second to Durrant in three stages, likewise Carlos Rivas was third in the three races which spanned a total 115.90 miles.
Bollers clocked 3:07.00.67 in stage one, did 2:31 .09.44 on stage two and on stage three, his timing was 2:14.22.23. Bollers' overall timing was 7:52.33.03.
Bollers thus was 38.23.95 behind Durrant on the three stages and Rivas was some 1:22.25.96 behind Durrant. Rivas' time on stage one was 3:20.03.01; stage two 2:44.55.66 and stage three-2:34.20.26, to have a time of 8:35.95.04.
Orel George competed only in stage two.
Saturday's stage one began at the decommissioned E.T Joshua Airport. From there the cyclists travelled to Colonaire, then looped from Calder to Bridgetown, doing so twice and finished at Akers Gap in Argyle. They covered 41.93 miles.
Sunday's stage two started at Mount Young in Georgetown, before heading to Tourama . They then made the loop five times, covering 46.02 miles.
And, on Monday, the start point was the decommissioned E.T Joshua Airport and they headed to Colonaire, then returned to Calder Gap en route to the finish line at the Belmont Look Out, a distance of 27.95 miles.