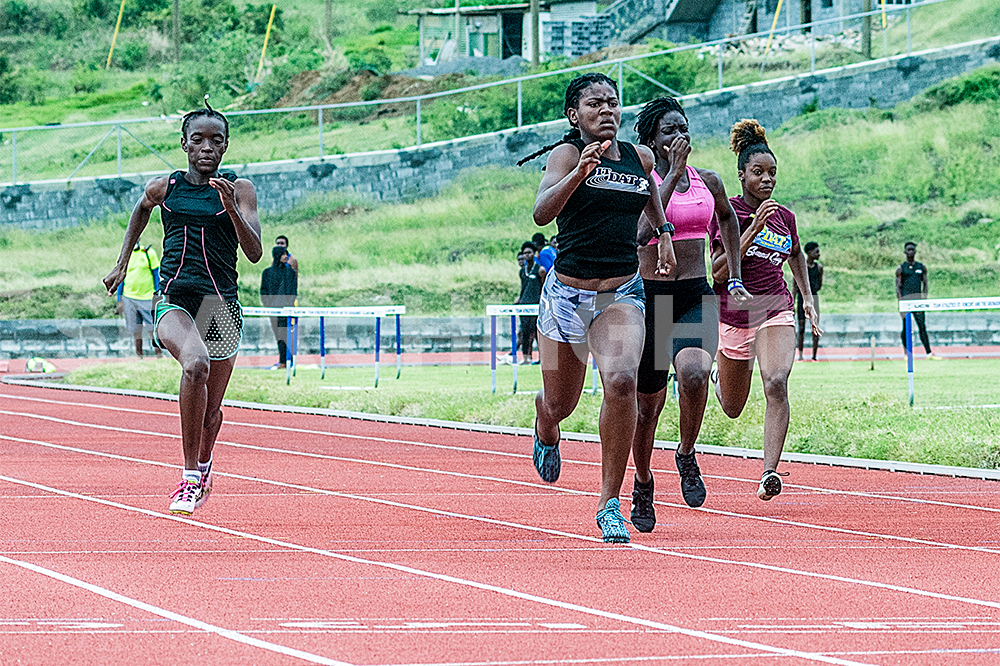 Locally based athletes make Carifta qualifying mark
SIX LOCALLY BASED athletes- Kyle Lawrence, Kodi Grant, Shonte Matthias, Devonric Mack, Grenisha Thomas and Keo Davis, placed their names in the hat for selection to the St Vincent and the Grenadines team for the 2022 Junior Carifta Games in Jamaica next month.
The six were part of last weekend's Carifta Trials staged by Team Athletics SVG at the Sir Vincent Beache athletics facility at Diamond.
Lawrence met the qualifying standards for both the 100m and 200m for the Males Under-20 age group.
On Saturday, Lawrence clocked 10.80 seconds in the 100m, beating the mark of 10.80 seconds.
He returned the following day to do the same in the 200m, as he timed 21.73 seconds. The mark in the 200m is 21.80 seconds.
Also on Saturday, Kodi Grant made the standard in the Male Under-17 Long Jump with a distance of 6.68m. He needed a minimum leap of 6.50m.
Another Under-17 standard was attained on Saturday, when Shonte Matthias stopped the clock at 12.21seconds in the Female 100m. She and others were asked to run at least 12.25 seconds over the distance.
Then on Sunday, Mack, Thomas and Davis joined Lawrence as the qualifiers on day two of the Trials.
Mack, who beat Lawrence in the 200m Male Under-17 final registered a time of 21.43 seconds.
Meanwhile, Thomas who was the lone competitor in the Female Under-20 400m Hurdles, needed to reach a time of 1:05.00 to qualify, but ran 1:04.75.
And, Keo Davis ran 21.68 in the Male Under-17 200, bettering the 22.00 set as the required standard.
The six join two other locally based Under-17 male athletes, Zacri Sobers and Jahieme Harry, along with Jamaica- based Uroy Ryan , Verrol Sam and Amal Glasgow as others who have qualified for the Games.
Sobers and Harry qualified in the Male Under-17 400m, while Ryan did so in the Male Under-20 Long Jump, Verrol Samthe Male Under-20 Pole Vault and High Jump, and Glasgow, the Male Under- 20 400m. The 2022 Junior Carifta Games take place at the Jamaica National Stadium April 16-18.
This year's edition, which is the 49th hosting of the Games, is a return of the marquee event, following the cancellations of the 2020 and 2021 editions due to the coronavirus pandemic.